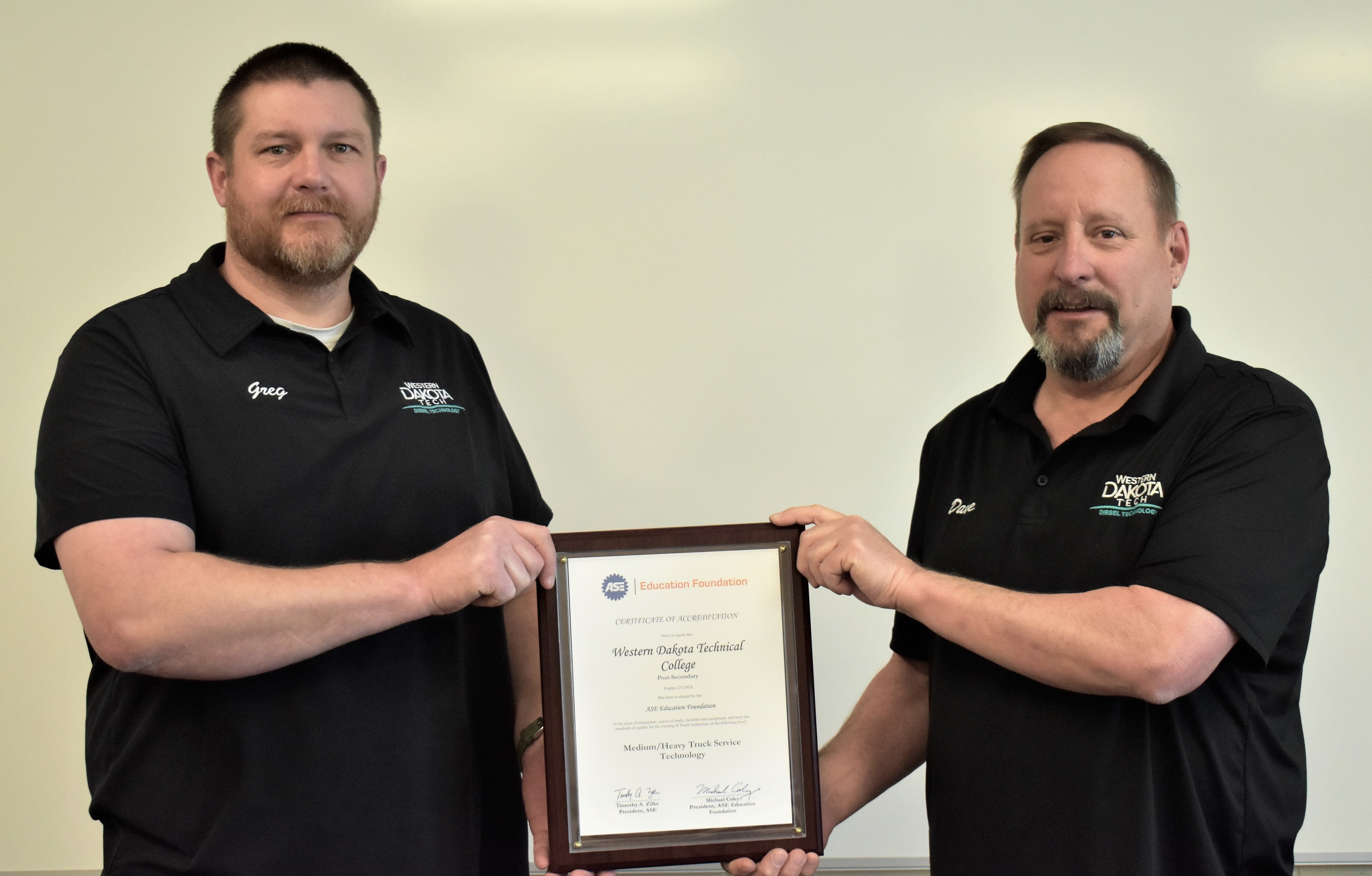 Noting it "meets the strict industry standards," the Western Dakota Technical College (WDTC) Diesel Technology program was recently informed it has received Automotive Service Excellence (ASE) Program Accreditation.

"We compliment you for attaining the level of excellence recognized by the ASE Education Foundation. Both the educational and automotive communities should be proud of your commitment to a quality [medium/heavy duty truck technician] training program" said Michael Coley, President of the ASE Education Foundation.
WDTC strives to prepare its students to be career-ready, highly-skilled professionals upon graduation. Programs seeking national accreditation go through a detailed and lengthy process to ensure the program follows industry protocol, meets specific standards, and offers a quality educational program. Accreditation ensures WDTC graduates enter their career field with the knowledge and skills appropriate to the industry.

"Over the last year, the Diesel Technology Program has worked diligently through ASE's accreditation process by completing an extensive program self-evaluation showing evidence on how they meet or exceed all accreditation standards. Earning this accreditation validates the excellent work the faculty are doing in the classroom and the overall quality education our Diesel Technology students are receiving before they enter this high-demand field," said Tiffany Howe, WDTC Vice President for Teaching and Learning.

Learn more about the Diesel Technology program at https://www.wdt.edu/degree-programs/diesel-technology/.


PHOTO CUTLINE:
L-R: Greg Kock, Diesel Technology Program Instructor, and Dave Lingle, Diesel Program Director, recently received a plaque from the ASA in recognition of the Diesel program's accreditation.
------------------------------------
About Western Dakota Technical College


Western Dakota Technical College (WDTC) was established in 1968 and is the only technical college serving the western South Dakota region.

WDTC offers more than 40 programs in a variety of fields, including Business and Computers, Construction and Manufacturing, Energy and Environmental Technologies, Health Sciences, Legal and Public Services, and Transportation Technologies.

Ninety-nine percent of Western Dakota Technical College's most recent graduates are working, continuing their education, or are enlisted in the military per the WDTC 2021 Placement Report. There were 326 respondents out of 380 graduates surveyed. [*Placement information is derived from graduate surveys, faculty-collected data, placement surveys started six months after graduation, and the South Dakota Department of Labor and Regulation. Overall placement rate is figured by: (responding graduates employed, continuing education, or in military service)/(responding graduates who are seeking employment). The number of program graduates are unduplicated by CIP code.]

Western Dakota Technical College faculty, staff, and administration focus their efforts on helping students gain the skills and experiences they need to succeed. Through hands-on learning, internships, and industry partnerships, Western Dakota Tech students graduate ready to make a real and immediate contribution to their employers and to their communities.

For information about WDTC, call (800) 544-8765 or (605) 718-2565 or send an email to Admissions@wdt.edu. Visit us on the web at wdt.edu.