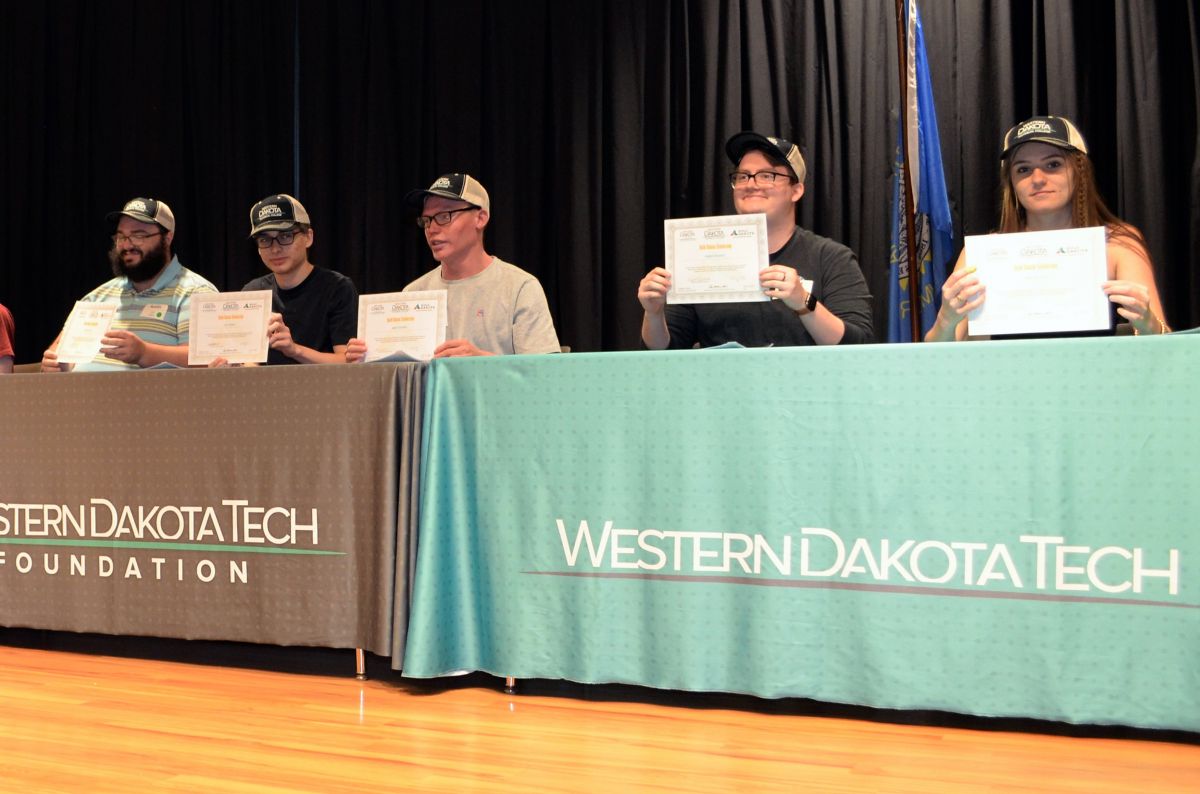 In a celebration similar to a college athletic singing, 82 individuals were recognized today, June 16, as full-ride Build Dakota Scholarship recipients for qualifying programs at Western Dakota Technical College (WDTC).

During the event, scholarship recipients signed Build Dakota Scholarship certificates, donned WDTC baseball caps, and received college pennants in front of an audience of family, friends, and industry scholarship sponsors.

The cumulative WDTC Build Dakota Scholarship awards presented today are expected to total $1.7 million.

Build Dakota Scholarship programs, the award recipients, and their hometowns are listed below. All cities are in South Dakota unless otherwise noted.

Automotive Technology
Brendan Diede, Whitewood; Quinn Ernst, Lead; Caden Parnow, Hettinger, N.D.; Bennett Solay, Rapid City; and Caine Svarstad, Rapid City.

Computer-Aided Design
Jordyn Ferguson, Piedmont; Londin Harwood, Sturgis; and Jakob Schaffer, Nemo.

Computer Science
August Bowman, Sturgis; Austin Evans, Black Hawk; and Levi Speers, Rapid City.

Construction Technology
Drason Cragi, Spearfish; Marcus Hegel, Box Elder; Chloe Thome, Rapid City; and Jonathan Young, Rapid City.

Dental Assisting
Kirsten Anderson, Rapid City; Maelli Jensen, Rapid City; Kaitlin Mitchell, Rapid City; and Mercedes Starkweather, Piedmont.

Drafting and Machining Technology
Jacob Ruffato, Rapid City.

Diesel Technology
Caleb DeGarmo, Rapid City; Kaleb Entzl, Fredonia, N.D.; Kaeman Hendricks, Rapid City; Daniel Knottnerus, Caputa; Kody Komes, Union Center; and Matthew Marrs, Whitewood.

Electrical Trades
Justin Doyle, Custer; Brock Foster, Sturgis; Wyatt Powers, Chamberlain; Jace Wetzler, Rapid City; Jett Wetzler, Rapid City; and Renegade Wooden Knife, White River.

Environmental Engineering Technician
Vaughn Vargas, Rapid City.

HVAC/R Technology
Ren Davis, Rapid City; and Jantzen Fisher, New Underwood.

Medical Laboratory Technician
Danielle Heerts, Sturgis; Andi Stone, Kadoka; and Tayler Weisz, Sturgis.

Paramedic
Tim Cournoyer, Mission; and Jazlyn Kleinschmit-Millhouse, Piedmont.

Practical Nursing
Autumn Anderson, Rapid City; Tristen Anderson, Rushville, Neb.; Kaylie Brandt, New Underwood; Nathan Brooks, Box Elder; Johanna Corriea, Edgemont; Allitney Forkner, Box Elder; James Geibel, Box Elder; Shyanna Hacker, Rosebud; Brooke Hochstetter, Rapid City; Tammera Keller, Rapid City; Reese Ludwick, Sturgis; Leah Luebke, Rapid City; Artee McCaskill, Rapid City; Tamara Peet, Rapid City; Jasmine Plumman, Rapid City; Amber Reed, Smithwick; Seth Simunek, Hot Springs; and Joshua Williamson, Hot Springs.

Registered Nursing
Kailee Bertch, Belle Fourche; Tonya Bloom, Host Springs; Jessica Casjens, Philip; Kelsey Eckhart, Sturgis; Cherise Evans, Rapid City; Ariana Ferreira, Rapid City; Jordan Hanley, Rapid City; Teshia Larsen, Rapid City; Tatiana Lazari, Summerset; Anna Rosencranz, Summerset; Jaci Skillingstad, Summerset; Stephanie Winckel, Black Hawk; and Kayala Wulf, Owanka.

Surgical Technology
Emily Grangaard, Rapid City; Natahlee Shields, Rapid City; Rebecca Shuck, Kadoka; and Alexis Wylie, Rapid City.

Welding and Fabrication
Tanner Brunskill, Murdo; Alyssa Dikoff, Rapid City; Jeren Ennen, Rapid City; Timothy Hamar, Kadoka; Avery Jensen, Box Elder; Tyler Percy, Deadwood; and Connor Schmitz, Rapid City.

WDTC Build Dakota Scholarship Industry Sponsors
Western Dakota Technical College and Build Dakota thank the following industries that have sponsored at least one scholarship recipient: Ballard Gynecology, Black Hills Oral Surgery and Dental Implant Center, Black Hills Tire, Black Hills Urgent Care, Community Health Center of the Black Hills, Fall River Health Services, Fountain Springs Healthcare Center, Good Samaritan Society, Sanford Health, John Deere, Grossenburg Implement, HILT Construction, Liberty Motors, Inc., Marrs Ranch, McKie Ford Lincoln, Meyer Dana Orthodontics, Midwestern Mechanical, Monument Health, Rapid City Medical Center, RDO Equipment Co.; Reed Repair; Philip Health Services/Scotchman Living Center, Scull Construction, and South Dakota Community Foundation.

About Build Dakota
Several workforce fields have been identified as high need in South Dakota, which means there is a shortage of skilled workers. The Build Dakota Scholarship was created in South Dakota to be a catalyst to help address this problem. By providing full scholarships and creating industry partnerships, Build Dakota can get more skilled scholars into the state's workforce. Build Dakota Scholars receive a free education, businesses gain employees, and South Dakota grows. Build Dakota Scholarships are offered at the state's four technical colleges.

The annual application period for Build Dakota Scholarships is January 1 through March 31. Students of any age are eligible to apply.

Build Dakota Scholarship recipients agree to:

Enroll full-time in one of Western Dakota Technical College's (WDTC) 19 Build Dakota Scholarship-eligible programs.
Maintain a 2.5 cumulative grade point average.
Complete the program on time.
Work full-time in South Dakota, in your field of study, for a minimum of three years following graduation.
Industry partner awardees must also meet any additional commitments to their industry sponsor.
Learn more about the Build Dakota Scholarship program at wdt.edu/BuildDakota.

Additional Build Dakota Signing Day photos will available on WDTC's Facebook page on June 17at: https://www.facebook.com/westerndakotatech.
--------------------------------------------------------------

About Western Dakota Technical College
Western Dakota Technical College (WDTC) was established in 1968 and is the only technical college serving the western South Dakota region.

WDTC offers nearly 40 programs in a variety of fields, including Business and Computers, Construction and Manufacturing, Energy and Environmental Technologies, Health Sciences, Legal and Public Services, and Transportation Technologies.

Ninety-nine percent of Western Dakota Tech's most recent graduates are working, continuing their education, or are enlisted in the military. [*Placement information is derived from graduate surveys, faculty-collected data, placement surveys started six months after graduation, and the South Dakota Department of Labor and Regulation. Overall placement rate is figured by: (responding graduates employed, continuing education, or in military service)/(responding graduates who are seeking employment). The number of program graduates are unduplicated by CIP code.]

Western Dakota Technical College faculty, staff, and administration focus their efforts on helping students gain the skills and experiences they need to succeed. Through hands-on learning, internships, and industry partnerships, Western Dakota Tech students graduate ready to make a real and immediate contribution to their employers and to their communities.

For information about WDTC, call (800) 544-8765 or (605) 718-2565 or send an email to Admissions@wdt.edu. Visit us on the web at wdt.edu.