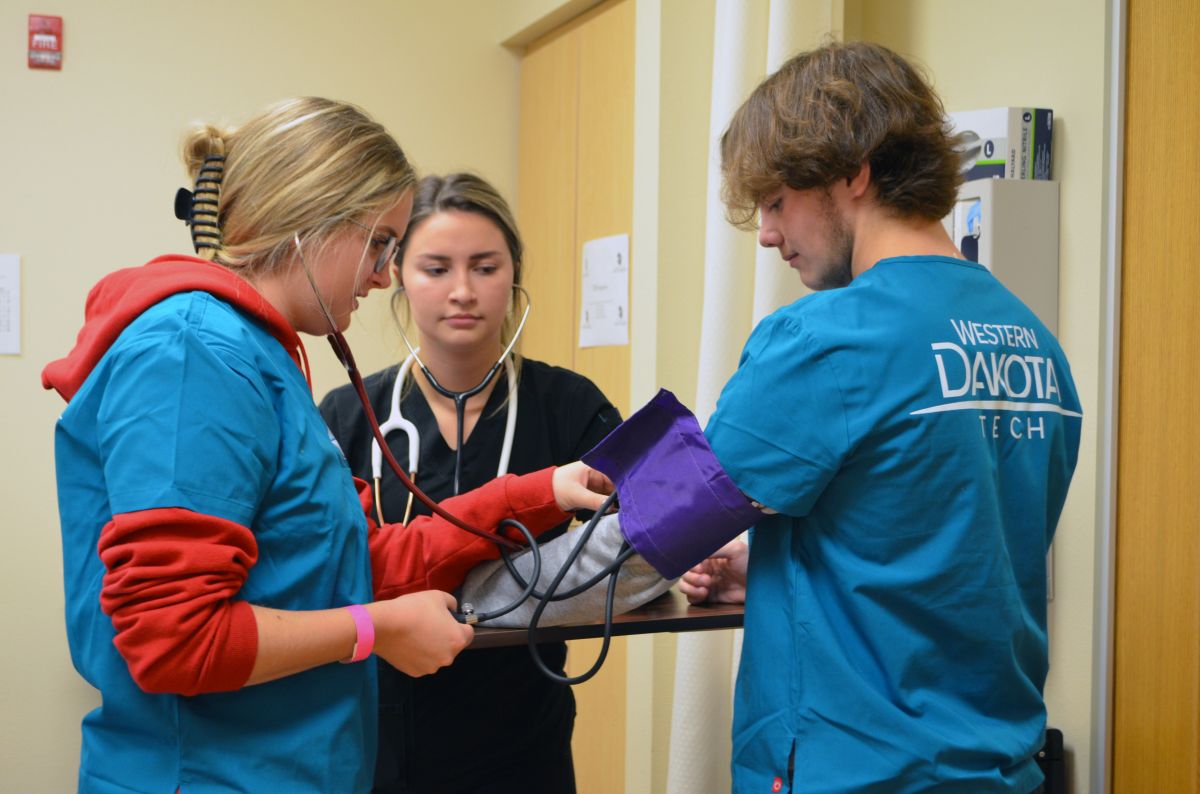 Deadline to Register for FREE Camp is Nov. 1

Western Dakota Technical College (WDTC) is excited to announce its upcoming Scrubs Camp, an engaging opportunity for high school juniors and seniors to delve into the world of health care careers. The event will take place on Tues., Nov. 7, from 8:30 a.m. to 2:45 p.m., at WDTC.

Scrubs Camp offers a unique, hands-on experience for participants, allowing them to discover the diverse and rewarding careers available in health care. Attendees will engage in active learning activities, meet with experienced faculty and current students, and explore the cutting-edge medical labs on campus.
High school juniors and seniors interested in participating in Scrubs Camp are encouraged to register as soon as possible at wdt.edu/camps. The registration deadline is Wed., Nov. 1. (Space is limited.)

During the event, attendees will have the chance to explore a wide range of health care career programs, including:

Dental Assisting
Health Information Management
Medical Assisting
Medical Laboratory Technician
Paramedic
Phlebotomy/Lab Assistant
Practical Nursing
Registered Nursing
Surgical Technology
A complimentary lunch will be provided to all participants.

For more information about Scrubs Camp, please contact the WDTC Admissions Office at (605) 718-2565 or email Admissions@wdt.edu.
----------------------------------------------------------------

About Western Dakota Technical College
Western Dakota Technical College (WDTC) was established in 1968 and is the only technical college serving the western South Dakota region.

WDTC offers more than 40 programs in a variety of fields, including Business and Computers, Construction and Manufacturing, Energy and Environmental Technologies, Health Sciences, Legal and Public Services, and Transportation Technologies.

Ninety-nine percent of Western Dakota Technical College's most recent graduates are working, continuing their education, or are enlisted in the military per the WDTC 2022 Placement Report. There were 320 respondents out of 342 graduates surveyed. [*Placement information is derived from graduate surveys, faculty-collected data, placement surveys started six months after graduation, and the South Dakota Department of Labor and Regulation. Overall placement rate is figured by: (responding graduates employed, continuing education, or in military service)/(responding graduates who are seeking employment). The number of program graduates are unduplicated by CIP code.]

Western Dakota Technical College faculty, staff, and administration focus their efforts on helping students gain the skills and experiences they need to succeed. Through hands-on learning, internships, and industry partnerships, Western Dakota Tech students graduate ready to make a real and immediate contribution to their employers and to their communities.

For information about WDTC, call (800) 544-8765 or (605) 718-2565 or send an email to Admissions@wdt.edu.