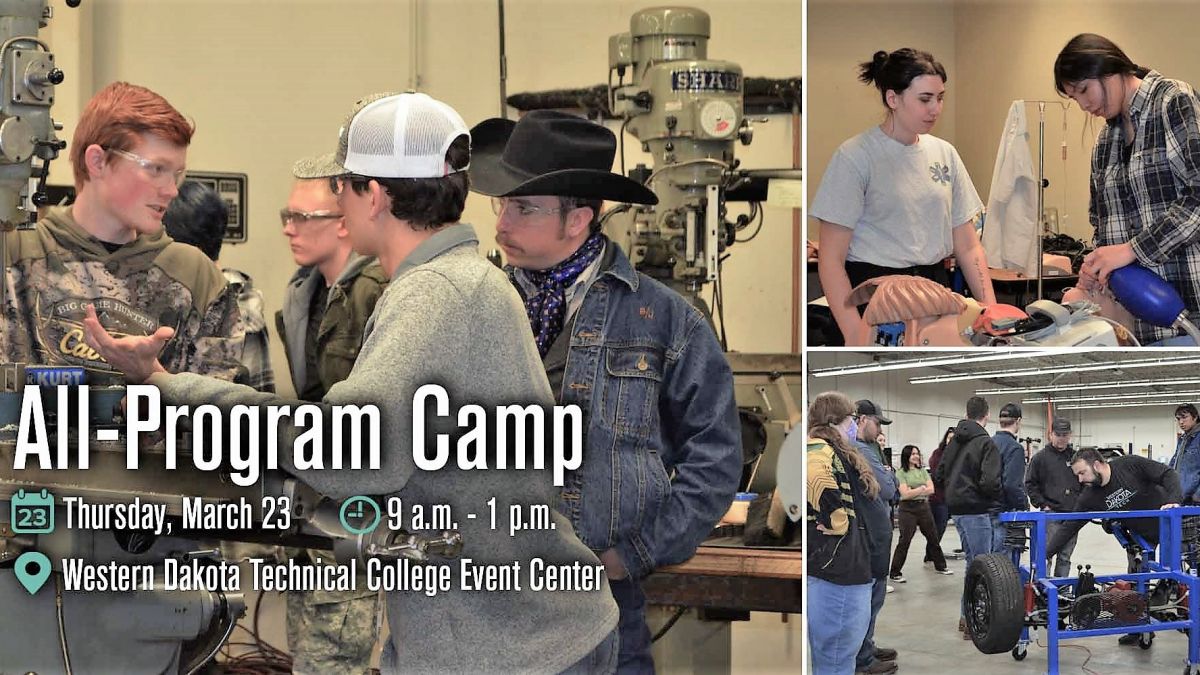 If you are a high school junior or senior undecided about the career you want to pursue, register today at wdt.edu/camps to attend Western Dakota Technical College's (WDTC) FREE One Day All-Program Camp. The career exploration camp will take place on the WDTC campus, from 9 a.m. to 1 p.m., Thursday, March 23. Lunch will be provided.

At the camp, each participant will have the opportunity to learn more about their top two WDTC career programs of interest. The programs offered at the college represent some of the fastest-growing professional fields and industries. Many of the college's programs are on the South Dakota Department of Labor's DOL) "Top 30 Hot Career" list. The S.D. DOL defines "Hot Careers" as those in high demand and with high wages. (More info at wdt.edu/hotcareer.)

When registering, students will select two programs from the following list to explore: Accounting/Business, Automotive Technology, Autonomous Equipment Technician (under Electrical Trades), Criminal Justice/Criminal Justice - Law Enforcement, Computer-Aided Design, Computer Science-Information Technology Specialist, Construction Technology, Dental Assisting , Diesel Technology , Electrical Trades, Environmental Engineering Technician (EET)/ EET- Controlled Environmental Agriculture, Farm and Ranch Management/Meat Processing, Health Information Management-Coding Specialist, HVAC & Refrigeration Technology, Nursing/Medical Assisting, Paramedic, Plumbing, Precision Machining, Surgical Technology, and Welding and Fabrication.

"We are excited to offer this special All-Program Camp for high school juniors and seniors to be able to explore their top two career interests through engaging and informational activities," said Wanda Roe, WDTC Admissions Specialist. "We find some students are interested in a type of career but are not sure which specific career best suits them. This camp will allow students to select two careers and find out more about each, which can aid them in deciding what education and career path they want to pursue."

Sophomore students will be admitted as space allows.

For more information, email Wanda.Roe@wdt.edu or call Wanda at (605) 718-2963.
--------------------------------------------------------------------------------------------------------------------

About Western Dakota Technical College

Western Dakota Technical College (WDTC) was established in 1968 and is the only technical college serving the western South Dakota region.

WDTC offers more than 40 programs in a variety of fields, including Business and Computers, Construction and Manufacturing, Energy and Environmental Technologies, Health Sciences, Legal and Public Services, and Transportation Technologies.

Ninety-nine percent of Western Dakota Tech's most recent graduates are working, continuing their education, or are enlisted in the military, per the WDTC 2021 Placement Report. There were 326 respondents out of 380 graduates surveyed. [*Placement information is derived from graduate surveys, faculty-collected data, placement surveys started six months after graduation, and the South Dakota Department of Labor and Regulation. Overall placement rate is figured by: (responding graduates employed, continuing education, or in military service)/(responding graduates who are seeking employment). The number of program graduates are unduplicated by CIP code.]

Western Dakota Technical College faculty, staff, and administration focus their efforts on helping students gain the skills and experiences they need to succeed. Through hands-on learning, internships, and industry partnerships, Western Dakota Tech students graduate ready to make a real and immediate contribution to their employers and to their communities.

For information about WDTC, call (800) 544-8765 or (605) 718-2565 or send an email to Admissions@wdt.edu. Visit us on the web at wdt.edu.