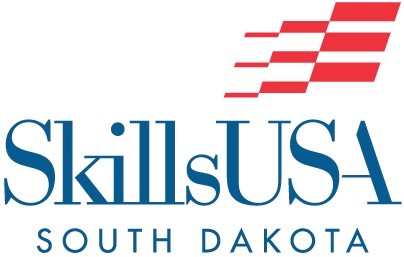 The exceptional career skills demonstrated by Western Dakota Tech (WDT) students has resulted in 11 post-secondary 2021 SkillsUSA South Dakota Awards received. Of the six events WDT students entered, they earned gold in five events and took all places – gold, silver, and bronze – in Architectural Drawing and Technical Drafting categories.
In the SkillsUSA South Dakota award competition, WDT students competed against their technical college peers from across the state in both written exams and hands-on skill tests. The state competition typically takes place in a host city, but this year due to COVID-19, the standard tests took place via the SkillsUSA online platform. Skills hands-on testing took place using the same set of instructions and test information at the individual colleges and were then shipped to judging locations.
The SkillsUSA South Dakota categories WDT students competed in, award places earned, and student names are as follows:
Architectural Drafting: Gold – Gavin Meyers; Silver – Ryan Wellnitz; and Bronze – Chloe Renfro.
Automotive Service: Silver – Nicholas Eslick, Bronze – Hadley Hillman.
Technical Drafting: Gold – Steve Heckman; Silver – Mike Hansen; Bronze – Jade Edwards.
Welding: Gold: Taven Hauf.
Welding Fabrication: Gold – Team W - Tanner Spencer, Tanner Ellefson, & Kody Miles.
Welding Sculpture: Gold – Cam Paisley.
Gold event winners earn the opportunity to complete against technical students from around the country in the 2021 SkillsUSA National Leadership & Skills Conference.
"Congratulations to the WDT SkillsUSA students on a very successful showing at the State Championships! You are showing future employers that you have the skills and talent to be outstanding employees and future leaders in the workforce," said Troy Barry, WDT Welding and Fabrication Instructor, WDT Welding Skills advisor, and WDT graduate. Barry is the Vice President of the South Dakota SkillsUSA Tech Career Board of Directors and is a former S.D. State Skills USA Champion.
WDT SkillsUSA S.D. active advisors for 2020-2021 include: Architectural Drafting and Technical Drafting - Todd Anderson and James Loverich; Automotive Service - Doyle Bouzek and Ethan Burk; and Welding, Welding Fabrication, and Welding Sculpture - Troy Barry.
Chandra Calvert, WDT Director of Industry Relations & Grant Management, is a member of the South Dakota SkillsUSA Tech Career Board of Directors.
"Thank you to the instructors, advisors, and industry representatives that helped plan and facilitate the competitions and events during a difficult year. You have made a positive impact on the students and the programs they attend at WDT," Barry said.

Ann Bolman, Ed.D., Western Dakota Tech President, is pleased with the award-winning career skills demonstrated by WDT students.

"I am always impressed with our students' skill level and proud when it shows up with contest-winning! It's an honor for me to work with such exceptional faculty and students," she said.

Western Dakota Tech is slated to host the SkillsUSA South Dakota Conference in April 2022 and 2023.
SkillsUSA South Dakota works with students, teachers and industry professionals to develop a skilled workforce. Our professional development opportunities prepare students for careers in trade and skilled service occupations, as well as tech careers in South Dakota.

PHOTOS OF AWARD WINNERS: Can be viewed on the Western Dakota Tech Facebook page at https://www.facebook.com/westerndakotatech/posts/10158226614351376.
---------------------------------------------

About Western Dakota Tech

Western Dakota Tech was established in 1968 and is the only technical college serving the western South Dakota region.

Western Dakota Tech offers programs in a variety of fields, including Business and Computers, Construction and Manufacturing, Energy and Environmental Technologies, Health Sciences, Legal and Public Services, and Transportation Technologies.

Ninety-nine percent of Western Dakota Tech's most recent graduates are working, continuing their education, or are enlisted in the military. [Placement information is derived from graduate surveys, faculty-collected data, placement surveys started six months after graduation, and the South Dakota Department of Labor and Regulation. Overall placement rate is figured by: (responding graduates employed, continuing education, or in military service)/(responding graduates who are seeking employment). The number of program graduates are unduplicated by CIP code.]

Western Dakota Tech faculty, staff, and administration focus their efforts on helping students gain the skills and experiences they need to succeed. Through hands-on learning, internships, and industry partnerships, Western Dakota Tech students graduate ready to make a real and immediate contribution to their employers and to their communities.

For information about Western Dakota Tech, call (800) 544-8765 or (605) 718-2565 or send an email to Admissions@wdt.edu. Visit us on the web at wdt.edu.