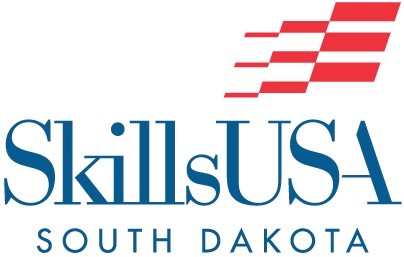 Welding & Fabrication Instructor Earns SkillsUSA S.D. Hall of Champions Award

Western Dakota Technical College (WDTC) students demonstrated exceptional career skills at the recent SkillsUSA South Dakota Leadership and Skills Conference earning many awards, including gold medals in 14 events!
In addition, WDTC Welding and Fabrication Instructor Troy Barry was honored for his contributions to SkillsUSA S.D. receiving the SkillsUSA S.D. Hall of Champions Award.
During the SkillsUSA S.D. conference, which took place at WDTC on April 7-8, about 250 career and technical education students from high schools and colleges across South Dakota participated in skills challenges to show they are ready for careers in manufacturing, transportation, construction, hospitality, and human services.
WDTC post-secondary events and student award winners were as follows:
Advertising Design – Gold, Chaplin Harris; Silver, Abby Williams; Bronze, Andria Williams.
Architectural Drafting – Gold, Eric Gonzalez.
Auto Service Technology – Silver, Ross Collins; Bronze, Micha Kooima.
Cybersecurity – Gold, David Bonner.
Diesel Equipment Technology – Gold, Anthony Simonson; Bronze, Andrew Neilan.
Extemporaneous Speaking – Gold, Stephanie Moak; Silver, Olivia Campbell.
HVAC – Gold, Justin Rohrenback; Silver, Matthew Bicskei; Bronze, Raul Rojas.
Information Technology Services – Gold, Thomas DeJong.
Internetworking – Gold, David Bonner.
Job Skill Demonstration A – Gold, Gannon Pudwill.
Prepared Speech – Gold, Stefanie Moak; Silver, Olivia Campbell.
Related Technical Math – Gold, Courtney Brinkman.
Technical Drafting – Gold, Dylan Schmitz; Silver, Mason Nash; Bronze, Monica Sherman.
Welding Individual – Gold, Taven Hauf; Silver, Nation Theis.
Welding Fabrication – Gold, WDTC Team W (Cy Eixenberger, Cam Paisley, and Kallie Shook); Silver, WDTC Team R (Cale Benson, Brennan Busse, and Jaxon Tabert).
Photos of most WDTC award winners can be viewed on the Western Dakota Tech Facebook page at https://www.facebook.com/westerndakotatech.
First-place winners earn the opportunity to go on to compete in the national event, the SkillsUSA Championships, this June in Atlanta, Ga.
Other colleges participating in the SkillsUSA S.D. competitions included: Lake Area Technical College, Mitchell Technical College, Southeast Technical College. All award winners can be viewed on the SkillsUSA S.D. website at https://skillsusasd.org/state-conference.
Troy Barry
Barry, WDTC Welding and Fabrication Instructor, was recognized with the SkillsUSA S.D. Hall of Champions Award at the conference. The award is bestowed upon those who help the youth develop the components of the SkillsUSA Framework in a changing world.
Barry is a graduate of the Western Dakota Technical College welding program and is now a Welding and Fabrication Instructor at WDTC. He helped coordinate the recent 2022 SkillsUSA S.D. Conference at WDTC. Barry is a former SkillsUSA S.D. Champion, is Vice President of the S.D. SkillsUSA Board of Directors, and was named one of five 2019 SkillsUSA Outstanding Career and Technical Educators! He was also named a 2020 American Technical Education Association Outstanding Faculty Award finalist.

----------------------------------------------------------------------------------------
About Western Dakota Technical College

Western Dakota Tech Technical College (WDTC) was established in 1968 and is the only technical college serving the western South Dakota region.

WDTC offers programs in a variety of fields, including Business and Computers, Construction and Manufacturing, Energy and Environmental Technologies, Health Sciences, Legal and Public Services, and Transportation Technologies.

Ninety-eight percent of Western Dakota Tech's most recent graduates are working, continuing their education, or are enlisted in the military. [Placement information is derived from graduate surveys, faculty-collected data, placement surveys started six months after graduation, and the South Dakota Department of Labor and Regulation. Overall placement rate is figured by: (responding graduates employed, continuing education, or in military service)/(responding graduates who are seeking employment). The number of program graduates are unduplicated by CIP code.]

WDTC faculty, staff, and administration focus their efforts on helping students gain the skills and experiences they need to succeed. Through hands-on learning, internships, and industry partnerships, Western Dakota Tech students graduate ready to make a real and immediate contribution to their employers and to their communities.

For information about Western Dakota Technical College, call (800) 544-8765 or (605) 718-2565 or send an email to Admissions@wdt.edu. Visit us on the web at wdt.edu.