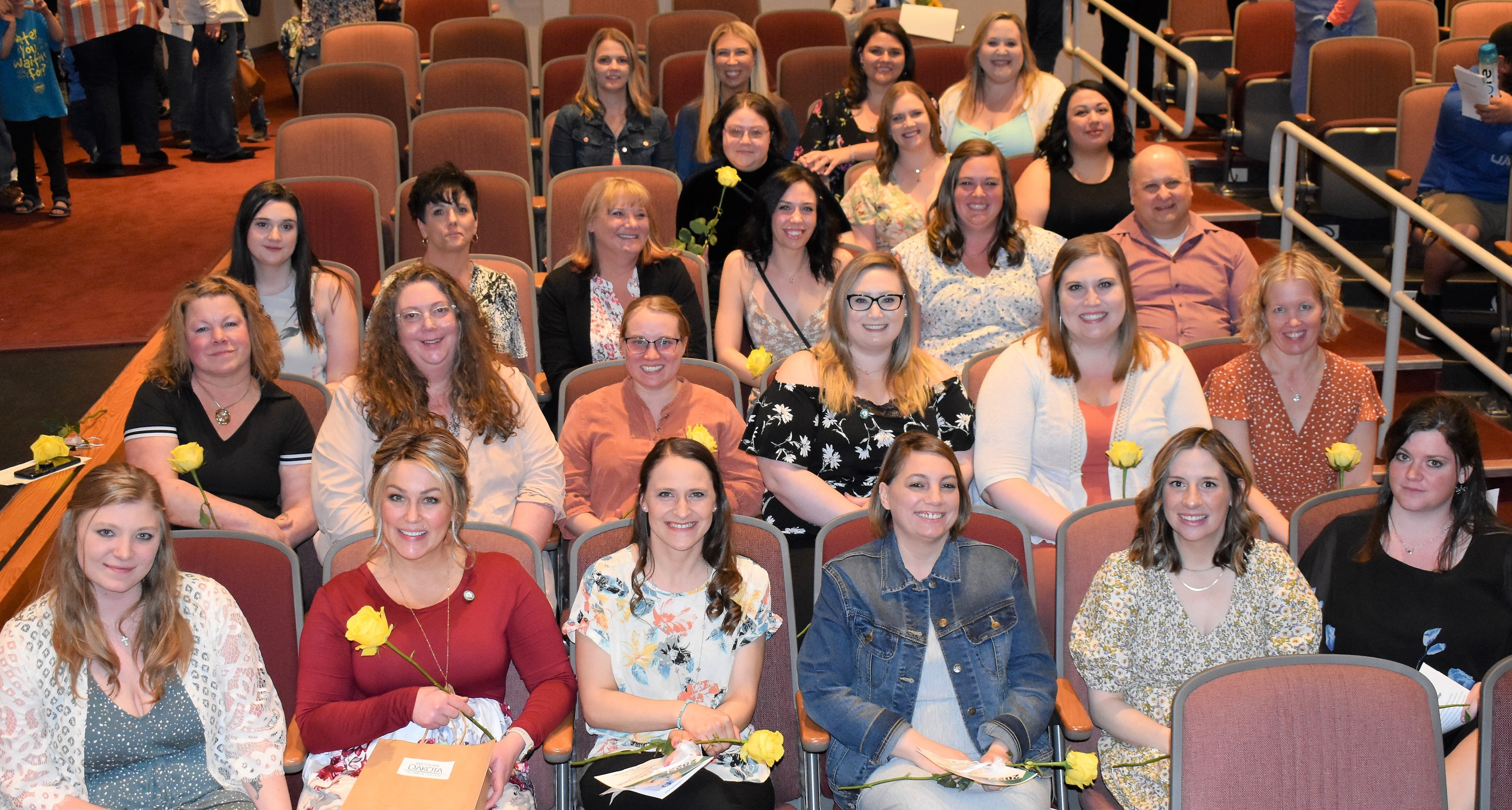 The need for more nurses in this area and throughout the nation is great. Western Dakota Technical College (WDTC) is helping to fill the much-needed careers with graduates of its Registered Nursing and Practical Nursing programs.
In honor of their completion of the WDTC Registered Nursing and Practical Nursing programs, 44 students received pins during a special ceremony on May 14. Receiving pins is a traditional symbolic welcoming of nursing graduates into the nursing field. Select students also received special awards.
Those honored at the ceremony included 21 students who completed the Registered Nursing program.
A total of 23 students completed the Practical Nursing program – 18 attended the WDTC Rapid City campus; five completed the Practical Nursing program at the WDTC Whitewood satellite campus. WDTC began offering Practical Nursing courses in Whitewood in Spring Semester 2021.
Registered Nurses who received pins and their hometowns:
Kara Bland – Spearfish
Jillian Block – Spearfish
Tabitha Broman – Rapid City
Dustina Chord – Sturgis
Stephanie Corbin – Box Elder
Haile DuBry – Belle Fourche
Trisha Dueker – Custer
Kristen Handley – Box Elder
Lindsey Heidt – Rapid City
Alissa Hendrickson – Rapid City
Kathy Hogg – Sturgis
Melissa Horvath – Rapid City
Charles Hughes, Jr. – Hettinger, N.D.
Megan Jenisch-Nagel – Rapid City
Kaycee Karst – Rapid City
Jenni Konda – Box Elder
Angela Loppe – Black Hawk
Megan Mohr – Rapid City
Jamie Moreno – Hot Springs
Elizabeth Patterson – Rapid City
Kristina Sokol – Rapid City
Practical Nurses who received pins and their hometowns are listed below. "(W)" denotes those who attended the Whitewood campus.

Bailey Bierle – Midland
Natasha Bonds – Box Elder
Nicole Carrier – Rapid City
Amanda Dutton – Rapid City
Kailer Eggebrecht – Rapid City
Jennifer Gonzales – Box Elder
Jaycee Herman – Rapid City
Karen Holliday – Rapid City
Jennifer LaBrie – Rapid City
Blake Mehlberg – Whitewood – (W)
Stephanie Mendez – Rapid City
Sue Mireles - Newcastle, Wyo. – (W)
Isaac Naasz – Winner
Jace Nelson – Rapid City
Crystal Probst – Box Elder
Nicolette Radensleben – Sturgis – (W)
Alexis Schacher – Box Elder
Alexys Schille - Rapid City – (W)
Savannah Tordsen – Rapid City
Kaitlyn Totten – Rapid City
Sarah Walvatne – Rapid City
Minda Warns-Bartelt - Belle Fourche – (W)
Ashlyn Weber – Box Elder
At the event, students received the following awards:
Registered Nursing
Academic Excellence
Clinical Excellence
Practical Nursing
Academic Excellence

Karen Holliday
Alexis Schacher

Clinical Excellence

Sara Walvatne
Minda Warns-Bartelt
Learn more about Western Dakota Technical College's Registered Nursing program at: https://www.wdt.edu/degree-programs/registered-nursing/. More information about the Practical Nursing Program can be found here: wdt.edu/degree-programs/practical-nursing/.
Additional photos are available on WDTC's Facebook page at: https://www.facebook.com/westerndakotatech.

PHOTO CUTLINES:
Top photo: Registered Nursing students with faculty at the Pinning Ceremony.
Bottom photo: Practical Nursing students, not all pictured, during the Pinning Ceremony.



-------------------------------------------------------------------------

About Western Dakota Technical College
Western Dakota Technical College (WDTC) was established in 1968 and is the only technical college serving the western South Dakota region.
WDTC offers more than 40 programs in a variety of fields, including Business and Computers, Construction and Manufacturing, Energy and Environmental Technologies, Health Sciences, Legal and Public Services, and Transportation Technologies.
Ninety-nine percent of Western Dakota Tech's most recent graduates are working, continuing their education, or are enlisted in the military. [*Placement information is derived from graduate surveys, faculty-collected data, placement surveys started six months after graduation, and the South Dakota Department of Labor and Regulation. Overall placement rate is figured by: (responding graduates employed, continuing education, or in military service)/(responding graduates who are seeking employment). The number of program graduates are unduplicated by CIP code.]
Western Dakota Technical College faculty, staff, and administration focus their efforts on helping students gain the skills and experiences they need to succeed. Through hands-on learning, internships, and industry partnerships, Western Dakota Tech students graduate ready to make a real and immediate contribution to their employers and to their communities.
For information about WDTC, call (800) 544-8765 or (605) 718-2565 or send an email to Admissions@wdt.edu. Visit us on the web at wdt.edu.