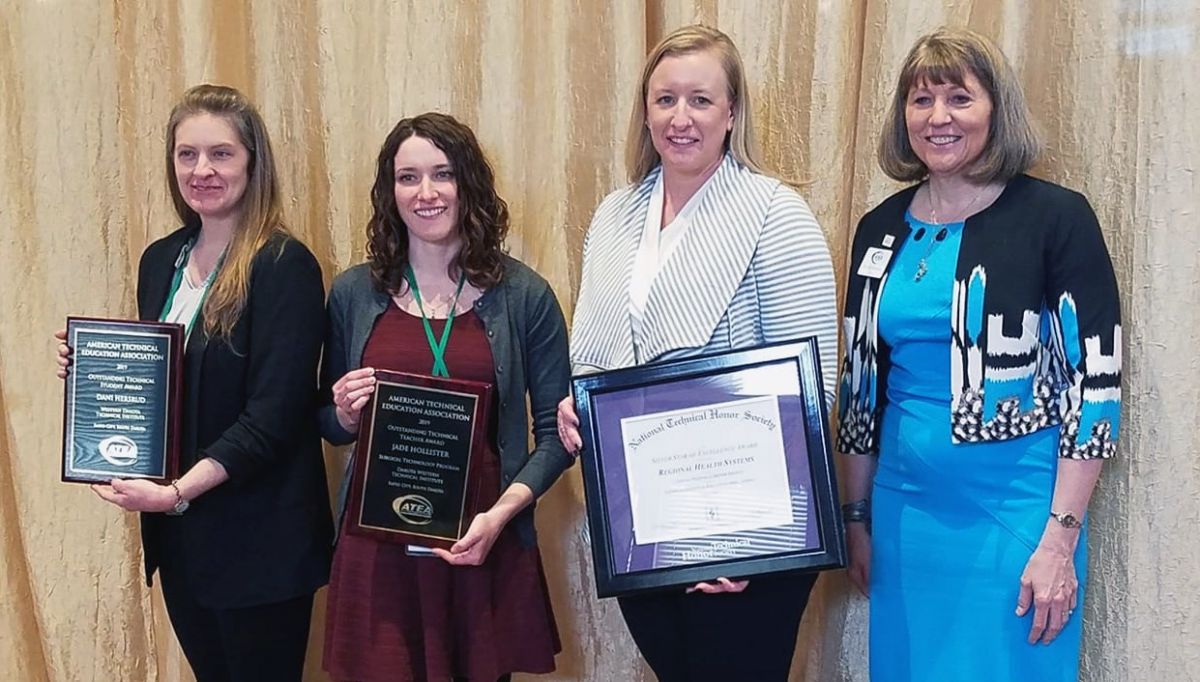 Western Dakota Tech (WDT) has great news to share! We have once again proved our excellence by receiving two major awards during the American Technical Education Association (ATEA) National Conference in Indianapolis, Ind., on Thursday, April 4! During the ATEA awards luncheon, Jade Hollister, Surgical Technology Program Director and WDT graduate, second from the left, was announced as the winner the 2019 ATEA Outstanding Technical Teacher Award!

Surgical Technology student Dani Hersrud, far left, was awarded the 2019 ATEA Student of the Year Award.

Jill Tice, Regional Health representative, second from right, accepted the the National Technical Honor Society's Silver Star of Excellence Award on behalf of Regional Health (RH). WDT and Dr. Ann Bolman, WDT President, far right, nominated RH for the award.

Congratulations to all!

About Western Dakota Tech

Western Dakota Tech was established in 1968 and is the only technical college serving the western South Dakota region.

Western Dakota Tech offers programs in a variety of fields, including Business and Computers, Construction and Manufacturing, Energy and Environmental Technologies, Health Sciences, Legal and Public Services, and Transportation Technologies.

More than 96 percent of Western Dakota Tech's most recent graduates are working, continuing their education, or are enlisted in the military.

Western Dakota Tech faculty, staff, and administration focus their efforts on helping students gain the skills and experiences they need to succeed. Through hands-on learning, internships, and industry partnerships, Western Dakota Tech students graduate ready to make a real and immediate contribution to their employers and to their communities.

Western Dakota Tech is located at 800 Mickelson Dr.

For information about Western Dakota Tech, call (800) 544-8765 or (605) 718-2565 or send an email to admissions@wdt.edu. Visit us on the web at wdt.edu.