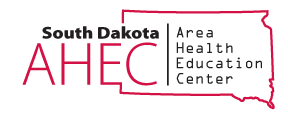 WDT First Fiscal Sponsor, Dr. Bolman Board of Directors President

The South Dakota Area Health Education Center (AHEC) Program Office is pleased to announce the location of the third Center office to serve our state. The successful proposal was awarded to a collaborative response submitted by over fifteen West River organizations in response to a Request for Proposal issued by the AHEC Program Office.
The South Dakota AHEC is a federally-funded initiative aimed to educate health professions students in medically underserved areas of the state, with the goal of recruiting and retaining healthcare professionals for these communities. Having a West River AHEC will allow for joint collaborative efforts with other regional entities to develop new and enhance existing programs while furthering state, higher education, and community interests addressing healthcare workforce concerns. The award of this Center brings new federal funds, jobs, and training opportunities to the West River region.
The West River AHEC is a collaboration of organizations who are actively working across the 16-county West River region and it builds on many partnerships that exist and will be strengthened. Involved partners include: Asniya; Catholic Social Services of Rapid City; Community Health Center of the Black Hills; Department of Veteran Affairs; Great Plains Tribal Chairmen's Health Board; Oglala Lakota College, College of Nursing; OneHeart; Rapid City Area School District; Regional Health; South Dakota School of Mines and Technology; South Dakota State University, College of Nursing; Spearfish School District; University of South Dakota, Department of Nursing (Rapid City site); University of South Dakota, Sanford School of Medicine (Rapid City site); and Western Dakota Tech.
A Board of Directors with broad representation from partnering organizations and communities has been established to oversee programming and operations for the newly established independent non-profit organization. The Executive Committee of the Board of Directors consists of Ann Bolman, Ed.D, Western Dakota Tech, President (President); Tim Trithart, Community Health Center of the Black Hills, Inc, Chief Executive Officer (Vice President); and Valeriah Big Eagle, M.S.Ed., South Dakota State University, Native American Nursing Education Center(NANEC), Diversity Outreach and Engagement Coordinator (Secretary/Treasurer). The Board of Directors will be informed by a Cabinet that includes representation from all partnering organizations.
Western Dakota Tech will serve as the fiscal sponsor for the West River AHEC during the initial phase of operations and will also provide office space. All partner organizations contribute meeting and program spaces as well as a variety of additional resources to support the work of the West River AHEC.
"Western Dakota Tech is excited to play a major role in the addition of a third AHEC to serve individuals living in Western South Dakota. The new Center will allow residents to more easily participate in the Center's remarkable programs," said Dr. Bolman. "We also see real value in a local AHEC to promote much needed healthcare careers, as well as training available, to serve our communities."
A job posting for the new West River AHEC Director position will open in late August 2019 and will remain open until the position is filled. Information on the position will be available through the WDT website (https://www.wdt.edu/faculty-staff/employment) as the Director will be a WDT employee dedicated to the West River AHEC.
"The SD AHEC Program Office appreciates the collaboration from the various stakeholder groups and other interested organizations in putting this proposal together. The addition of the West River AHEC Center will provide even more opportunity for SD AHEC to make strides in healthcare workforce development across the state and we are excited to partner with entities in Western South Dakota," said Dr. Susan Anderson, SD AHEC Program Director.
The successful proposal was facilitated by Elizabeth Freer, dialogue LLC, a consulting firm based in Spearfish, SD.
The AHEC Program Office was established in 2009 and is located within the Sanford School of Medicine of The University of South Dakota in Sioux Falls. South Dakota has existing Centers in Aberdeen and Yankton.
------------------------------------------------

About Western Dakota Tech
Western Dakota Tech was established in 1968 and is the only technical college serving the western South Dakota region.

Western Dakota Tech offers programs in a variety of fields, including Business and Computers, Construction and Manufacturing, Energy and Environmental Technologies, Health Sciences, Legal and Public Services, and Transportation Technologies.

More than 98 percent of Western Dakota Tech's most recent graduates are working, continuing their education, or are enlisted in the military. [Placement information is derived from graduate surveys, faculty-collected data, placement surveys started six months after graduation, and the South Dakota Department of Labor and Regulation. Overall placement rate is figured by: (responding graduates employed, continuing education, or in military service)/(responding graduates who are seeking employment). The number of program graduates are unduplicated by CIP code.]

Western Dakota Tech faculty, staff, and administration focus their efforts on helping students gain the skills and experiences they need to succeed. Through hands-on learning, internships, and industry partnerships, Western Dakota Tech students graduate ready to make a real and immediate contribution to their employers and to their communities.

For information about Western Dakota Tech, call (800) 544-8765 or (605) 718-2565 or send an email to admissions@wdt.edu. Visit us on the web at wdt.edu.