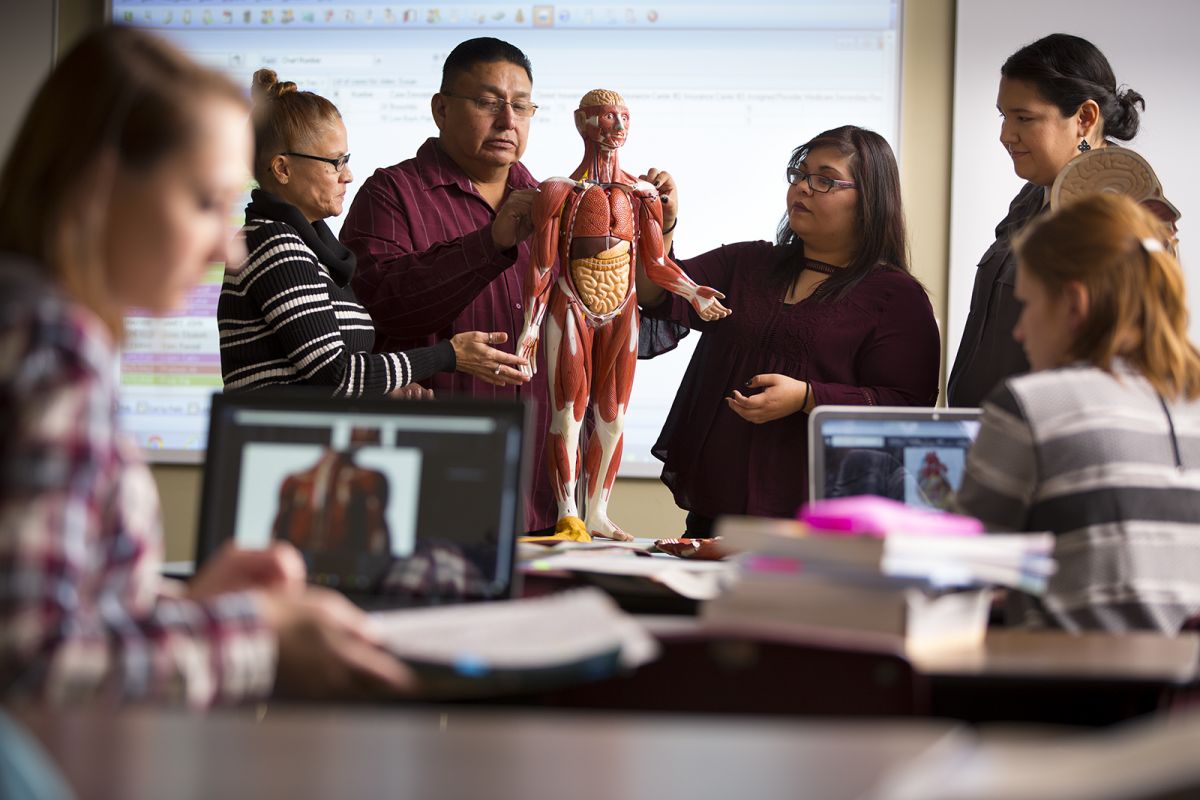 Western Dakota Tech's high student satisfaction scores, in conjunction with its significant Native American enrollment rate, is garnering it national academic attention. The college has been chosen to present at the Minority Serving Community Colleges: Celebrating Student Success convening, in Washington, D.C., Nov. 14-15.

The event is an opportunity for minority-serving colleges across the country to share best practices related to student success and will feature speakers from the U.S. Department of Education, U.S. Department of Labor, and Jovita Carranza, Treasurer of the United States. "It's an honor for Western Dakota Tech to present at this event and I'm proud of the work we've done to help students succeed," Ann Bolman, Ed.D., President of Western Dakota Tech, said. "We have some exciting initiatives to share."

Jill Elder, Admissions and Financial Aid Director, and Debbie Toms, Student Success Director and Registrar, will be presenting "Student Satisfaction with Service Excellence". Elder said being selected to present at the convening shows changes across campus throughout the past two years are paying off.

"We've made a lot of changes at Western Dakota Tech in the past two years to ensure our focus is on student satisfaction and student success," said Elder. "We've improved the Admissions and Financial Aid processes, and added a Student Success Center, and we are already seeing impressive results."

Elder said they have improved the Admissions and Financial Aid processes by focusing on career goals and embracing a one-stop service mentality.

"We want to make sure students are selecting their best-fit programs and that they have everything they need to be successful," Elder said. "That includes financial support, housing, child care if needed, transportation, all the things in their lives that will need to be in place before classes start."

Elder says the process doesn't stop with Admissions. Once students are set up for classes, the Student Success Center steps in. Toms says every student at Western Dakota Tech is assigned a Student Success Coach and that coach helps ensure they have all the support they need until graduation.

"Our Student Success Coaches work hard to make sure students get a successful start by preparing them and helping them navigate the first week of classes," Toms said. "But we also focus on semester-long outreach and support."
Toms said students have a wide variety of services available to them, including tutoring, ADA accommodations, a food bank, an emergency fund, and connections to community resources as needed. The center also works to ensure students are meeting attendance and grade requirements.

All of these efforts are showing impressive results. Toms said Western Dakota Tech returned high rankings in the 2017 National Community College Benchmark Project. The college ranked in the 95th percentile in Satisfaction with Academic Advising/Counseling and in Satisfaction with Concern for the Individual. It also ranked above the 75th percentile in seven other categories.

"We are really proud of our ranking on the 2017 National Community College Benchmark Project," Toms said. "The project is a strong indicator of student satisfaction nationwide and we are thrilled to see our efforts paying off."

Western Dakota Tech's significant Native American enrollment rates have earned it a special Federal designation. Western Dakota Tech is the only college designated as a Native American-Serving Nontribal Institution in the state of South Dakota.

Toms and Elder will fly to Washington, D.C., on Monday, Nov. 13.

About Western Dakota Tech

Western Dakota Tech was established in 1968 and is the only technical college that serves the western South Dakota region.

Western Dakota Tech offers programs in a variety of fields, including Business and Computers, Construction and Manufacturing, Energy and Environmental Technologies, Health Sciences, Legal and Public Services, and Transportation Technologies.

More than 96 percent of Western Dakota Tech's most recent graduates are working, continuing their education, or are enlisted in the military.

Western Dakota Tech faculty, staff, and administration focus their efforts on helping students gain the skills and experiences they need to succeed. Through hands-on learning, internships, and industry partnerships, Western Dakota Tech students graduate ready to make a real and immediate contribution to their employers and to their communities.

For information about Western Dakota Tech, call (800) 544-8765 or (605) 718-2565 or send an email to admissions@wdt.edu. Visit us on the web at www.wdt.edu.