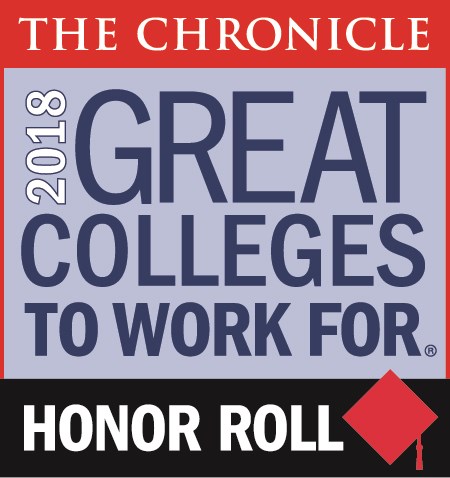 Three years ago, Western Dakota Tech set out to create the best workplace possible and earn acknowledgement as a Chronicle of Higher Education "Great Colleges to Work For" by 2021. Years ahead of its goal, this week Western Dakota Tech has been recognized as a 2018 Great College to Work For, received honors in five categories, and was named to The Chronicles' even more prestigious Honor Roll.
"Western Dakota Tech is pleased to have been selected a 2018 Great Colleges to Work For and be named to the Honor Roll," said Ann Bolman, Ed.D., Western Dakota Tech President. "This national recognition is the result of our desire and efforts to make this college an employer of choice. We value and respect our faculty and staff and together we strive to teach the knowledge, skills, and behaviors students need to be successful."
The Great Colleges to Work For survey is one of the largest workplace recognition programs in the nation. This year's results, announced on July 15, are based on responses from more than 53,000 individuals at 253 colleges and universities. Of those, only 84 institutions, including two-year colleges such as Western Dakota Tech, and four-year schools, have been recognized in one or more of 12 recognition categories. In addition, Western Dakota Tech is only one of 42 colleges named to the esteemed Honor Roll. The college is one of four honored in the 2-Year Institutions, Small (2,999 or fewer students) category.
Western Dakota Tech received honors in the following five categories:
Collaborative Governance
Compensation and Benefits
Job Satisfaction
Respect and Appreciation
Supervisor/Department Chair Relationship
"Western Dakota Tech is a great place to work because employees across campus are committed to our priority: student success. In addition to excellent, student-focused employees, we have improved communication and involve people campus-wide in decisions and processes related to their work areas," Dr. Bolman said. "Finally, our committee structure gives employees and board members the opportunity to work together on projects and task forces that make Western Dakota Tech an even better place to work and study."
The Chronicle of Higher Education is a leading, national publication. For 11 years, it has honored colleges and universities earning top ratings from employee surveys on workforce practices and policies.
The Great Colleges to Work For survey was conducted by ModernThink LLC, for The Chronicle. Institutional data in The Chronicle's report was drawn from participating colleges and the U.S. Department of Education.
For more information about the Great Colleges to Work for 2018 report, visit The Chronicle of Higher Education's website.

------------------------------------------------------------------------------------
About Western Dakota Tech
Western Dakota Tech was established in 1968 and is the only technical college that serves the western South Dakota region.

Western Dakota Tech offers programs in a variety of fields, including Business and Computers, Construction and Manufacturing, Energy and Environmental Technologies, Health Sciences, Legal and Public Services, and Transportation Technologies.

More than 96 percent of Western Dakota Tech's most recent graduates are working, continuing their education, or are enlisted in the military.

Western Dakota Tech faculty, staff, and administration focus their efforts on helping students gain the skills and experiences they need to succeed. Through hands-on learning, internships, and industry partnerships, Western Dakota Tech students graduate ready to make a real and immediate contribution to their employers and to their communities.

For information about Western Dakota Tech, call (800) 544-8765 or (605) 718-2565 or send an email to admissions@wdt.edu. Visit us on the web at www.wdt.edu.