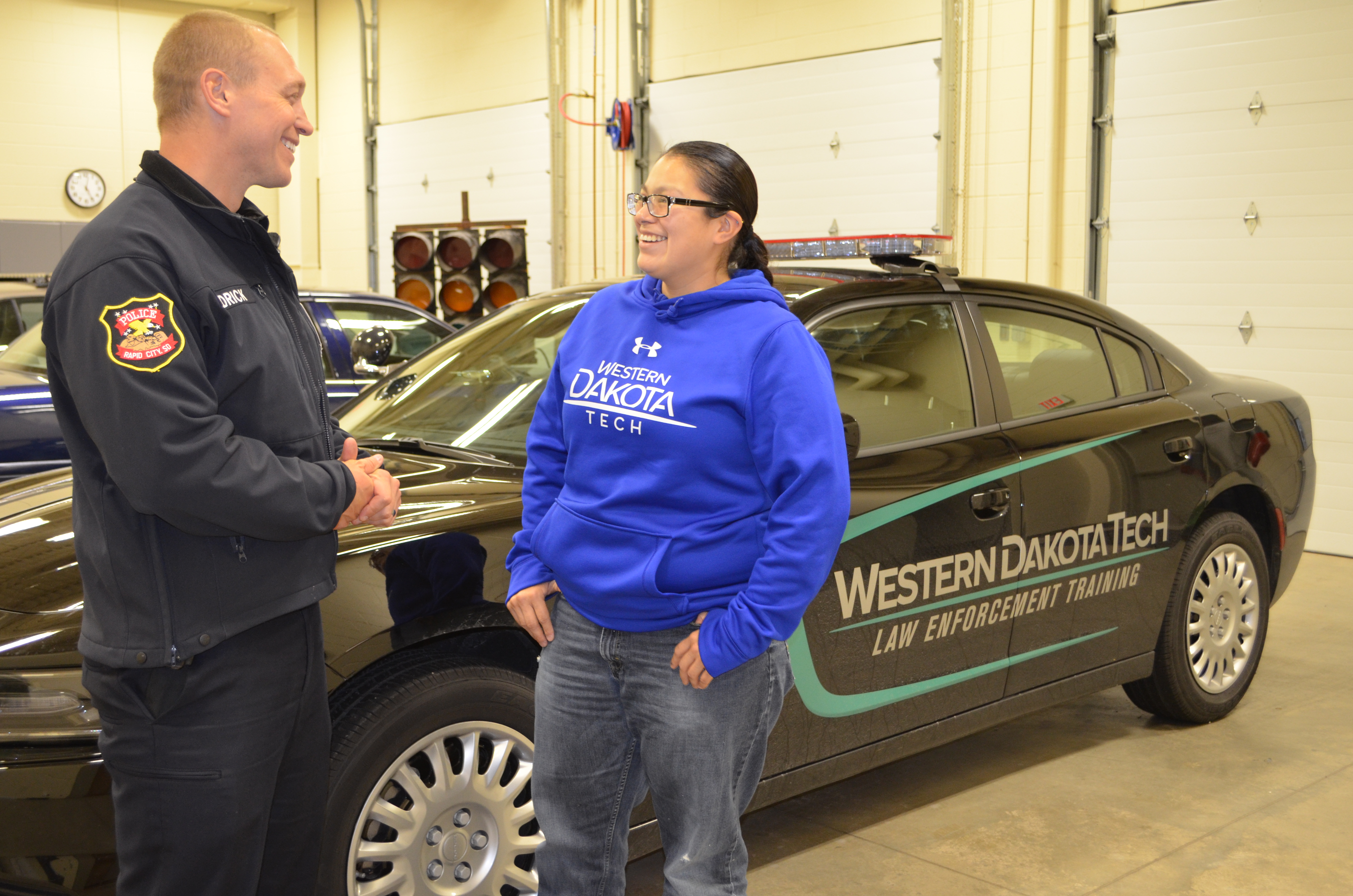 12-12-2018
Article Courtesy Native Sun News Today
By Richie Richards
Native Sun News Today Correspondent

RAPID CITY – A program at Western Dakota Tech pairs up students in the criminal justice program with longtime Rapid City law enforcement officers for mentorship and learning.

Akicita is the Lakota word for warrior.

The Rapid City Police Department and Western Dakota Tech held an Open House celebration for the Criminal Justice and Criminal Justice Law Enforcement students who are part of the Akicita Mentorship Program at the school's Event Center. This collaborative program between WDT and both the police department and sheriff's office is focused on bringing Native American students into law enforcement through training and mentoring.

The mentorship program provides support from law enforcement agencies in Rapid City and literally opens doors for students who wish to learn more about the trade. Students are exposed to areas of the police department and sheriff's office by staffs who discuss the dayto day details of their positions. The hope is to inspire the possible recruits in becoming a part of these law enforcement programs.

Native Sun News Today interviewed two Lakota women who are mentees in the WDT program. These two women have unique backgrounds with common goals; they both would like to someday return to the reservation and fight crime through leadership and experience. Both women speak with a fearless voice when it comes to their decision to become officers of the law and they are proud to be a part of the program. Their mentors play a key role in their success.

Cecelia White Eagle, 30, is in the Criminal Justice Program at WDT with an emphasis in law enforcement. She is currently in her third semester and says she loves it. "The opportunities that have opened up and the doors that have opened up to me is what I like most. It's taken me to a place and in a direction I have never been before and never thought I could go," said White Eagle.

White Eagle was born on the Cheyenne River Reservation at the old IHS building. She was raised in the town of Green Grass. This is the home of the sacred pipe held by Arvol Looking Horse. Traditionally, these are holy grounds for the Lakota people and White Eagle is aware of that honor. "I was raised in Green Grass, right there at the sun dance grounds. I used to go by there every day to go to the river," she said of growing up on the reservation. This constant recognition of the sacred presence gives her a confidence that comes out when she speaks.

She claims that it was not a conscious decision but rather that law enforcement chose her.

I was going to school in Dupree, in head start when I was chosen to be Student of the Week," said White Eagle. "They did a newspaper clipping on me and I said in there I wanted to be a policeman. I was probably like 4-years-old when I said that."

In speaking on a cultural spiritual level, White Eagle said that when she was a little girl, she shot an arrow into the universe when she made the statement of wanting to be a policeman. "I've been chasing down that arrow all my life. I've been trying to find it and pick it up," she said. The arrow she speaks about is her dream; a dream that has taken nearly thirty years to be realized.

"This is the closest I've ever been. I start the academy in January here. When I get done here, I will be reciprocitied to start and I can be hired on to the Rapid City Police Department. That is the goal to remain here in the community, that way I can help mend and heal the bond between the Native American community and the police department," said White Eagle.

White Eagle said she would like to be a positive force and show youth that they can rise above gangs, drugs and above the poverty which holds so many back from achieving their goals; of finding their arrows. She wants the younger generation to know they can rise above these social constraints and make the most of the opportunities they are given. It just takes commitment and sacrifice.

"A lot of our youth need that push because a lot of them are misguided. I just want to be a light in the dark," she said.

As part of the program, White Eagle has been paired up with RCPD Assistant Chief, Don Hedrick. Assistant Chief Hedrick has been very active in the community in race relations and improving the understanding officers have with the needs of the Rapid City Native American community.

"It's been great. I have really enjoyed it. She is a great and energetic woman. We've been finding ways so that we can keep her in our department; to see what we do, to see what our officers do," said Hedrick. We've had her do a couple of different ride along's with a couple of different shifts."

The Assistant Chief has brought her in to meet the officers, captains and lieutenants to get a feel for what they do on a normal day. "We've also been working with Cecelia on things outside of police work, like tours of the jail, meeting with the state's attorney's office and meeting with our criminal investigations division to see what it is that our detectives do. So, it's not clearly defined. It's been a lot of fun and I've really enjoyed working with Cecelia," said the assistant chief.

Hedrick has been a blessing to many in the community, despite the nature of his position as a law enforcement officer. His mentorship to White Eagle is outstanding as they are both strong-willed and good-hearted leaders. Hedrick said Cecelia's strengths are that she is sharp, hardworking and intelligent. Those qualities would be welcomed in any police department or law enforcement agency across the country.

"It's been really good. He (Hedrick) gave me one of these Rapid City Police Department coins. My future, my life-long goal, after this, I want to achieve getting my bachelor's degree and eventually going on to the University of Wyoming to get a master's degree in public administration with a minor in criminal justice. It will teach me how to be an administrator," she said. White Eagle wants to be the leader of the team and her spirit relays that message. "Eventually one day when I gain enough experience, enough wisdom and when I feel like I'm ready, I want to go home and hopefully be the first female chief of police of Cheyenne River."

When it comes to the role that law enforcement plays in community building and race relations, White Eagle feels it's important in order for her people to grow and go further. She feels the community needs to heal from the past and collectively she hopes to be able to help move past that.

Rapid City has had its share of challenges over the years. At any given time, the Pennington County Jail has a population of over 50 percent Native American, despite the fact that at the last census in 2010, the Native American population was just over 12 percent. Having more Native American officers in law enforcement may help to change the dynamics of the areas heavily patrolled, as Rapid City has high rates criminality in all neighborhoods and not just North Rapid.

Sydney Word, 19, is a soft-spoken Oglala Sioux Tribe member with a fighter instinct. She is in her first semester at Western Dakota Tech in the Criminal Justice program. She feels this is the best experience she's ever been through.

"The program itself, the instructors, and the activities they have set up and the mentors they have set up with the Akicita program is a really eye opening experience. It helps us; it helps me think about what I want to do in my future," said Word.

Word is taking this first year at WDT to think about what she wants for her future. "This is what I want to do. This is what I don't want to do. That's what the mentorship is helping me to do," she said. Most students in their first year of college or technical school are unsure of what they want to do once they graduate from their program. This uncertainty is common and in many cases, it's through mentorship or meeting the right instructor which cements their career goals.

"My mentor is Hollie Strand. She is very awesome. I'm very fortunate to have her as a mentor," said Word. Hollie Strand is a computer forensic examiner for the Pennington County Sheriff's Office.

Strand has been active in sex trafficking over the internet, catching internet predators, and other sex crimes which involve children and the internet. Her work, like others in her field, is important; as the internet is becoming more and more used by predators and sex traffickers in their criminal behavior and in luring women and girls into sexual activities.

"I'm honestly not sure what type of officer I want to be right now," said Word. "I'm stirring in the direction of wanting to work for the Rapid City Police Department for a number of years to build up my credibility. I kind of want to go back to the reservation and do some undercover work, do something with DCI. I'm kind of a risk taker."

Being a part of the Akicita Mentorship is an honor in Word's life. "It makes me feel proud. It makes me feel like I'm doing something right with my life and being a part of this program. Sometimes, it's trying but when I finish whatever task it is, I'm relieved," she said. "I feel like I am supposed to be here, like I want to be a part of this and I want to do this."

Western Dakota Tech President, Ann Bolman, spoke to students and staff from both the Rapid City Police Department and Pennington County Sheriff's Office and talked about the pride she has for this program, which she feels will continue in improving race relations and community building in Rapid City. She welcomes potential students to come to WDT and learn more about the Akicita Mentorship Program.

The two Lakota women featured in this story both have a sense of civic responsibility, but also a calling to protect their people living on the reservation. They both spoke with conviction and fortitude as they look forward to their careers in law enforcement. So much of the victimization on reservations and in Indian communities occurs to women. For them to want to protect women and children in their careers is the truest definition of what it means to be a warrior, an akicita.

Subscribe to Native Sun News Today at https://www.nativesunnews.today/subscribe/.

(Contact Native Sun News Today Correspondent Richie Richards at richie4175@gmail.com.)

----------------------------------------------------------------
PHOTO: Western Dakota Tech. Rapid City Police Department Assistant Chief Don Hedrick and Western Dakota Tech Criminal Justice - Law Enforcement student Cecilia White Eagle.