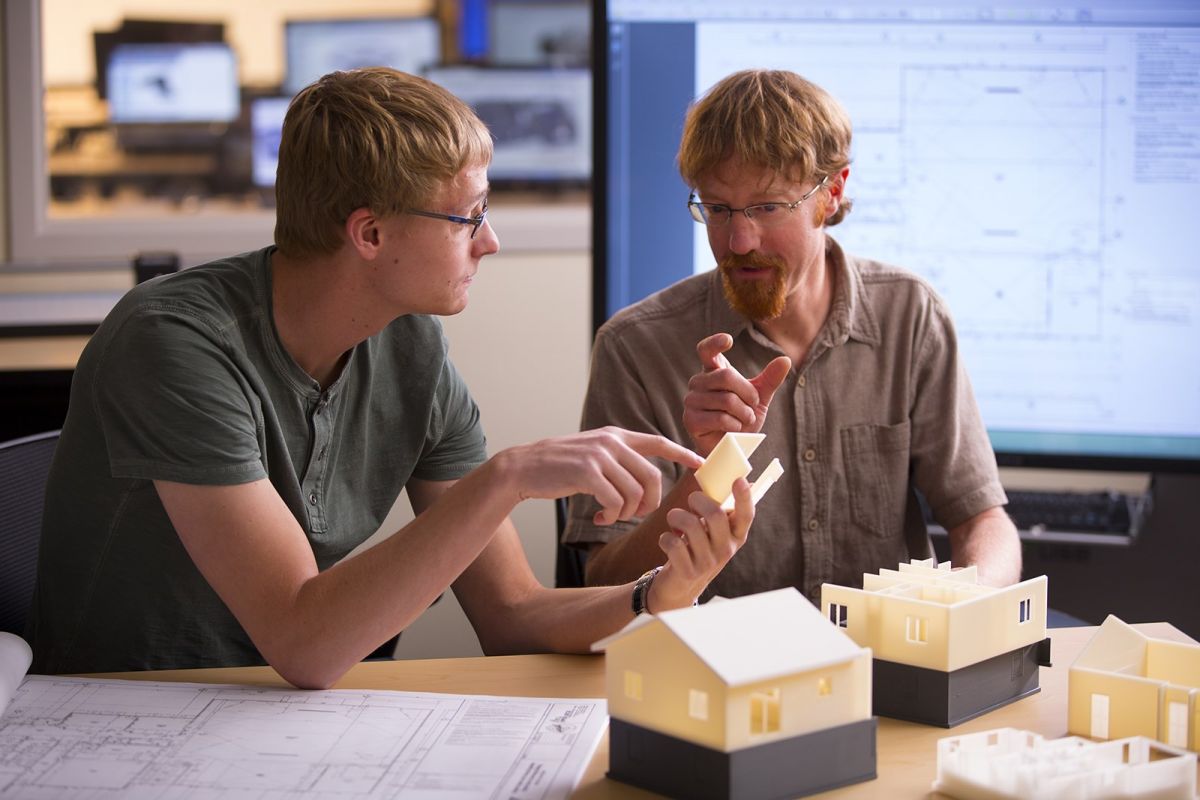 If you are looking for a high-demand career that pays well and requires little physical work, you might consider Computer-Aided Design (CAD). A great opportunity to find out more about this interesting industry and local college program will take place during a CAD Open House, from 5:30 p.m. to 7 p.m., at Western Dakota Tech on Tuesday, June 19.
A CAD overview will begin at 5:30 p.m. followed by a hands-on demonstration of how virtual reality is used in design today. Program Co-Directors Todd Anderson and James Loverich will be available to talk to those interested in the program and answer questions. They will also provide a tour of the CAD classrooms and lab.
"Individuals who are detail-oriented, enjoy problem solving, have an interest in creating drawings to build things, and learning new technology, would be prime candidates to consider going into Computer-Aided Design work," said Anderson.
"In addition, people who have worked in building, construction, welding, machining, and who are looking to do less physical work, and or would like to enhance their skills by learning CAD, would also be great candidates for the program," Loverich said.
Western Dakota Tech Computer-Aided Design graduates have a 100 percent job placement rate. (Placement data based on survey responses of 2016-2017 graduates. Nine of the 10 graduates responded to the survey.)
"Our graduates are now employed by Caterpillar/RFA Engineering, West Plains Engineering, Rapid Fire Protection, Skyline Engineering, Ferber Engineering, KLJ Engineering, Architecture International, Albertson Engineering, FourFront Design, Upper Deck Architects, and other businesses," Loverich said.
Western Dakota Tech's Computer-Aided Design Associate of Applied Science degree is a 71 credit hour, 18-month program. The program equips students with the skills and knowledge necessary to produce accurate technical drawings using industry standard CAD systems.
"We teach the most current industry methods for our graduates to have an edge when it comes to job placement and hiring," Anderson said. "For example, this last year we added 3-D virtual reality technology and aerial drone surveying to our program," Anderson said.
Graduates of the 18-month program receive training in a full-range of knowledge and skills needed to succeed in the diverse field of drafting and design. Loverich said the degree is widely accepted as the industry standard in qualifying for an entry level position in the architectural, civil, and mechanical CAD fields.
Architectural drafters assist architects by preparing technical plans and details showing the dimensions, construction materials, and processes used for residential and commercial building projects. Mechanical drafters prepare detail and assembly drawings of a wide variety of machinery and mechanical devices, indicating dimensions, fastening methods, and other requirements. Civil drafters create drawings that detail the construction related to land, roads, bridges, and other infrastructure. The Computer-Aided Design program at Western Dakota Tech provides students with a solid base of knowledge in all three of these fields, maximizing their versatility when entering the job market.
Register to attend the free CAD Open House at www.wdt.edu/rsvp.
Learn more about Western Dakota Tech's Computer-Aided Design program at https://www.wdt.edu/degree-programs/computer-aided-design.

--------------------------------------------------------------------------------------------
About Western Dakota Tech

Western Dakota Tech was established in 1968 and is the only technical college that serves the western South Dakota region.

Western Dakota Tech offers programs in a variety of fields, including Business and Computers, Construction and Manufacturing, Energy and Environmental Technologies, Health Sciences, Legal and Public Services, and Transportation Technologies.

More than 96 percent of Western Dakota Tech's most recent graduates are working, continuing their education, or are enlisted in the military.

Western Dakota Tech faculty, staff, and administration focus their efforts on helping students gain the skills and experiences they need to succeed. Through hands-on learning, internships, and industry partnerships, Western Dakota Tech students graduate ready to make a real and immediate contribution to their employers and to their communities.

For information about Western Dakota Tech, call (800) 544-8765 or (605) 718-2565 or send an email to admissions@wdt.edu. Visit us on the web at www.wdt.edu.