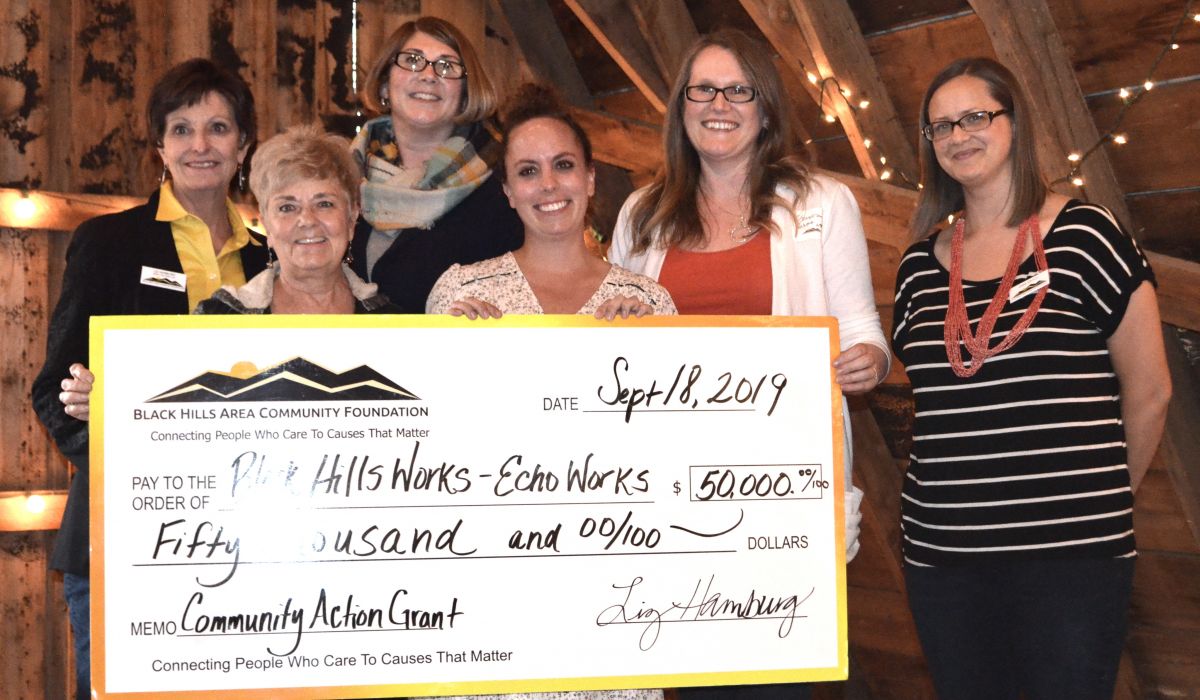 Echo Works Collaborating with Western Dakota Tech to Establish eWaste Recycling Location, Program

This year marked the second year the Black Hills Area Community Foundation (BHACF) awarded the $50,000 Community Action Grant for 2019.This year's recipient is Black Hills Works (BHW) to support their Echo Works Project. Black Hills Works is collaborating with Western Dakota Tech to develop the program.

The grants were announced at a grant celebration on Sept. 18. This year, 20 organizations indicated an interest in applying for the grant and the BHACF invited six organizations to apply. All finalists submitted requests for innovative projects with the potential for great impact, which made the final selection process difficult.

Ultimately, the Black Hills Works: Echo Works Project was selected based on the partnerships formed, the multiple areas of impact from environment to employment and student education, and the gap in services to our community that Echo Works will address.
Echo Works, a division of BHW, is a member of CyclePoint with SourceAmerica. CyclePoint is an eRecycling network that offers communities convenient, safe and secure electronics disposal. Its mission is to create sustainable jobs for people with significant disabilities and to contribute to environmental health. Currently, there are limited recycling facilities in or around Rapid City for processing of recyclable materials from electronic waste.

Echo Works is collaborating with Western Dakota Tech (WDT) to establish a physical location for an on-campus and community-accessible e-recycling facility and to develop new policies regarding responsible recycling practices that reduce the disposal of dangerous electronics in local landfills. As part of this partnership, WDT will provide facilities for Eco Works operations as well as transportation of commodities. Students and instructors from the WDT Professional Truck Driving program will transport deconstructed materials to regional commodities exchange facilities.

Additionally, Program Director (Kelsey Murray, Ph.D.) and students from the WDT Environmental Engineering Technology Department, will provide support to the project through development of policy, educational materials, outreach, and future partnerships, particularly with the City of Rapid City.

Over the last year BHACF has partnered with Feeding South Dakota, the 2018 recipient of the Community Action Grant, to distribute food via mobile food pantries to 21,694 family members; distribute 247,170 pounds of food in neighborhoods located in food desert areas of Rapid City; foster ongoing partnerships with 13 nonprofits and 35 sustained volunteers who support the mobile distributions; and implement new mobile data management software to help better track community impact.
-------------------------------------------------
About Western Dakota Tech

Western Dakota Tech was established in 1968 and is the only technical college serving the western South Dakota region.

Western Dakota Tech offers programs in a variety of fields, including Business and Computers, Construction and Manufacturing, Energy and Environmental Technologies, Health Sciences, Legal and Public Services, and Transportation Technologies.

More than 98 percent of Western Dakota Tech's most recent graduates are working, continuing their education, or are enlisted in the military. [Placement information is derived from graduate surveys, faculty-collected data, placement surveys started six months after graduation, and the South Dakota Department of Labor and Regulation. Overall placement rate is figured by: (responding graduates employed, continuing education, or in military service)/(responding graduates who are seeking employment). The number of program graduates are unduplicated by CIP code.]

Western Dakota Tech faculty, staff, and administration focus their efforts on helping students gain the skills and experiences they need to succeed. Through hands-on learning, internships, and industry partnerships, Western Dakota Tech students graduate ready to make a real and immediate contribution to their employers and to their communities.

For information about Western Dakota Tech, call (800) 544-8765 or (605) 718-2565 or send an email to admissions@wdt.edu. Visit us on the web at wdt.edu.