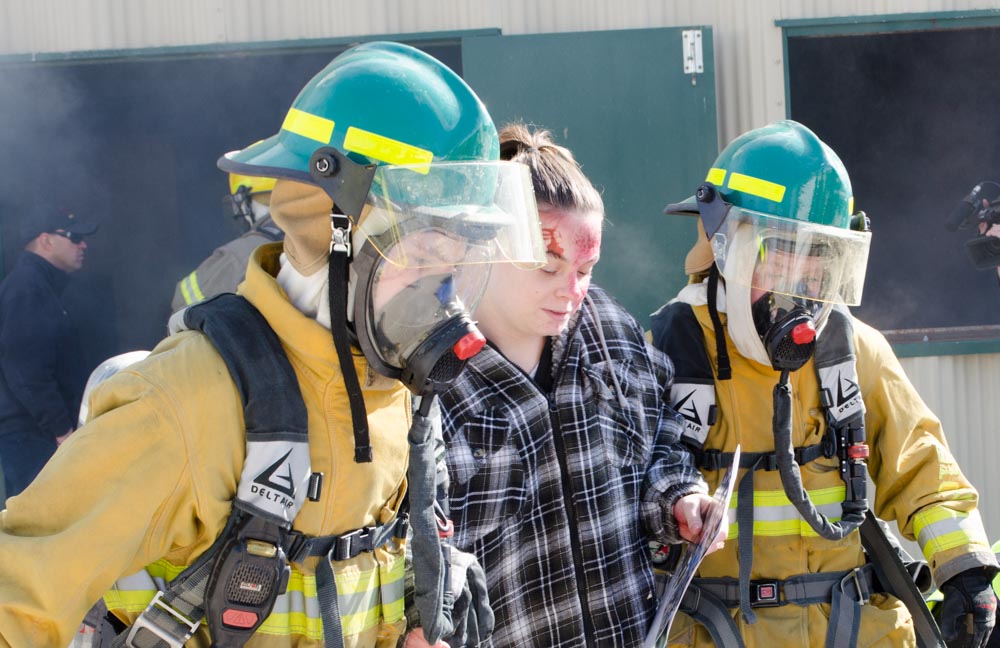 The major impact Western Dakota Tech graduates will have during and after real-life disasters was clearly evident during the college's annual Mass Casualty Simulation event.
This year's simulation featured the explosion of a meth lab with a subsequent fire, individuals with guns, and many bystander victims with an array of injuries and drug induced conditions. The realistic event started in the fire tower on Sedivy Lane and concluded on the Western Dakota Tech campus on March 14.
The scenario began with an explosion, fire and some fights. Law enforcement students responded first, followed by fire science students in fire trucks and ambulances with paramedic students. Patients arriving by ambulance at Western Dakota Tech's new Medical Simulation Center were triaged, treated by community medical physicians and nursing students, some were admitted to simulated hospital beds. Patients had blood taken, some went into surgery, received prescription medications, went through the discharge process, and medical bills were prepared.
The simulation incorporated students from many Western Dakota Tech programs: Fire Science, Law Enforcement, Paramedic, Nursing, Medical Lab, Phlebotomy, Surgical Technology, Phlebotomy, Pharmacy, Health Information Management, Criminal Justice, Transportation Technology, HVAC/R, Electrical, and General Education. Students responded to a mass casualty scene in real-world time as first-responders.
"Simulation is invaluable for students to practice real-world skills in a safe environment," Western Dakota Tech Simulation Center Director Lloyd McNett said. "The ability to review outcomes and assess performance maximizes the learning potential at each one of these events."
While simulation is a core ability of Western Dakota Tech, this once-a-year large simulation event incorporates many departments. Cross-departmental collaboration is essential in providing the best possible first response care to victims. The simulation event taught students the skills needed to work quickly and cohesively with first-responders from a variety of backgrounds.
Students in each program practiced classroom-specific skills while cooperating with the other departments.
A couple of area physicians participated in the event to help enhance the learning of Western Dakota Tech students, including Nathan Long, M.D., Paramedic Program Medical Director and Regional Health Emergency Physician. Real-world connections helped students apply skills from the simulation to situations they might face on the job.
George Ceremuga, M.D., Indian Health Service Family Medicine Physician, was working with and coaching the nursing students in the Emergency Department simulation.
"Nursing is a great profession," he told a group of nursing students. "Always remember to show and be the love."
Following the event Dr. Ceremuga said he was impressed by the drill.
"This was pretty realistic. We have seen patients with varying conditions today," he said. "I can say you have strong students here."
Western Dakota Tech students said they found great value in the simulation event.
"I found this to be both hectic and realistic," said first-year Surgical Technology student Kassidy Inghram.
"This was fun and very challenging," said Amanda Luther, second-year nursing student. "This has given me a good idea of what working during a real mass casualty event would be like."
Each Western Dakota Tech program met after the event for debriefing. The debriefing included assessment of student performance and learning outcomes and discussion about how to improve future simulations.
The Rapid City Fire Department participated in the event with fire trucks and on-scene coaches. EMS services from within a 250-mile radius were also invited.
Western Dakota Tech thanks all participants for their efforts which helped make the simulation a success.
To view additional photos of the Mass Casualty Simulation event, click to go to Western Dakota Tech's Facebook page. For more information about Western Dakota Tech programs or the Western Dakota Tech Medical Simulation Center, visit http://www.wdt.edu/.


About Western Dakota Tech
Western Dakota Tech was established in 1968 and is the only technical college that serves the western South Dakota region.
Western Dakota Tech offers programs in a variety of fields, including Business and Computers, Construction and Manufacturing, Energy and Environmental Technologies, Health Sciences, Legal and Public Services, and Transportation Technologies.
More than 86 percent of Western Dakota Tech's most recent graduates are working, continuing their education, or are enlisted in the military.
Western Dakota Tech faculty, staff, and administration focus their efforts on helping students gain the skills and experiences they need to succeed. Through hands-on learning, internships, and industry partnerships, Western Dakota Tech students graduate ready to make a real and immediate contribution to their employers and to their communities.
For information about Western Dakota Tech, call (800) 544-8765 or (605) 718-2565 or send an email to admissions@wdt.edu. Visit us on the web at www.wdt.edu.