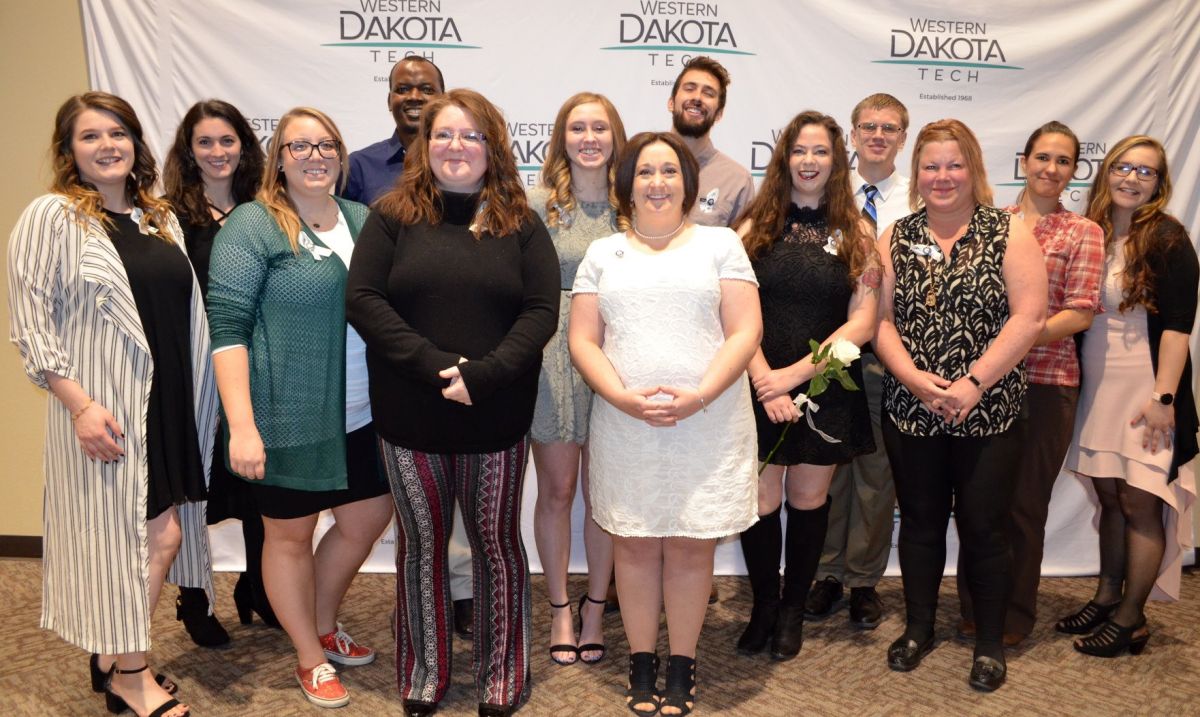 Fifteen Western Dakota Tech (WDT) Practical Nursing students were honored for completing the program during a Pinning Ceremony, in the college's Event Center, Dec. 13. These graduates will help fill an important need in the workforce for entry-level nurses in the health care environment. The Pinning Ceremony is a traditional symbolic welcoming of Nursing Graduates into the Nursing field. Students chose who they want to put the pin on them during the ceremony and write a thank-you note that is read while they receive the pin.

Western Dakota Tech Nursing Program Director Christi McArthur, MSN, RN, provided the welcome. Opening remarks were by Donna Hanks, WDT Instructional Technology and Design Specialist. Closing remarks were provided by WDT President Ann Bolman, Ed.D. Student speakers were Heather Kenworthy and Elisha Nyaboga.

Special nursing awards were presented as follows:

Most Compassionate - Laura Boyer.
Clinical Experience - Maranda Walter.
Peer Mentor - Heather Kenworthy.
Phoenix Award - McKenzie Doto.
The nurses honored during the pinning ceremony are listed below. All hometowns are in South Dakota unless noted.

Laura Boyer, Rapid City.
Jessica Casjens, Philip.
Mckenzie Doto, Rapid City.
Doris Harms, Box Elder.
Melissa Horvath, Rapid City.
Keegan Kelly, Rapid City.
Heather Kenworthy, Box Elder.
Taylor King, Whitewood.
Chelse Manwell, Rapid City.
Elisha Nyaboga, Rapid City.
Leticia Schnell, Gillette, Wyo.
Isabella Stelzle, Rapid City.
Sasha Stover, Hot Springs.
Taylor Terrasas, Rapid City.
Maranda Walter, Rapid City.
Learn more about nursing education opportunities on Western Dakota Tech's Practical Nursing web page. More information is also available by calling Western Dakota Tech Admissions at (800) 544-8765, (605) 718-2565 or emailing Admissions@wdt.edu.

PHOTO CUTLINE:
Fifteen students were honored for completing the Western Dakota Tech Practical Nursing Program on Dec. 13. Thirteen of the graduates gathered for a group photo following the ceremony.
------------------------------------------------------------------------------------------------------
About Western Dakota Tech

Western Dakota Tech was established in 1968 and is the only technical college serving the western South Dakota region.

Western Dakota Tech offers programs in a variety of fields, including Business and Computers, Construction and Manufacturing, Energy and Environmental Technologies, Health Sciences, Legal and Public Services, and Transportation Technologies.

More than 98 percent of Western Dakota Tech's most recent graduates are working, continuing their education, or are enlisted in the military. [Placement information is derived from graduate surveys, faculty-collected data, placement surveys started six months after graduation, and the South Dakota Department of Labor and Regulation. Overall placement rate is figured by: (responding graduates employed, continuing education, or in military service)/(responding graduates who are seeking employment). The number of program graduates are unduplicated by CIP code.]

Western Dakota Tech faculty, staff, and administration focus their efforts on helping students gain the skills and experiences they need to succeed. Through hands-on learning, internships, and industry partnerships, Western Dakota Tech students graduate ready to make a real and immediate contribution to their employers and to their communities.

For information about Western Dakota Tech, call (800) 544-8765 or (605) 718-2565 or send an email to admissions@wdt.edu. Visit us on the web at wdt.edu.