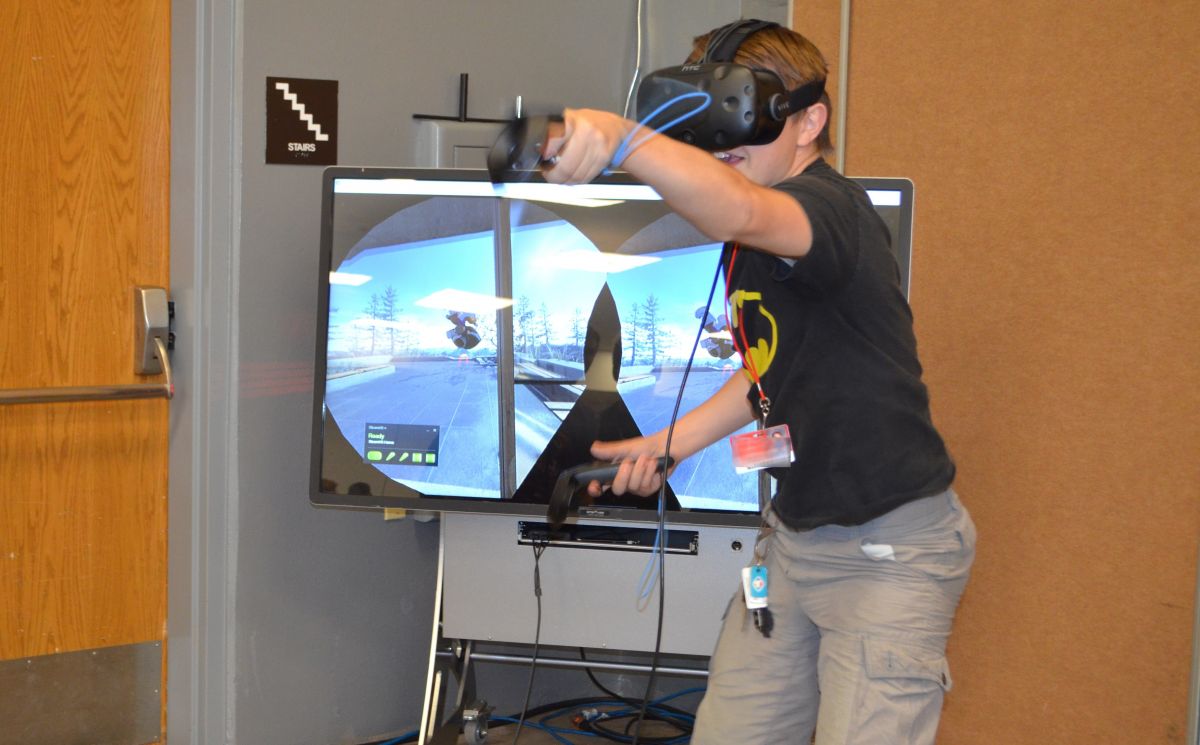 One of the most popular activities at the recent Western Dakota Tech Career Expo was one in which high school students could try out virtual reality equipment utilized in the college's Computer-Aided Design program.

There is good news for students who could not attend the Expo, but are interested in learning more about Computer-Aided Design as well as Automotive Technology, Diesel Technology, Drafting and Machining Technology, Precision Machining Technology, and Welding and Fabrication.

Western Dakota Tech is hosting an activity-rich Transportation and Manufacturing Camp featuring the college programs, on campus, Wednesday, Nov. 7. The free camp will take place from 8:30 a.m. to 2:30 p.m. This event is an excellent way for students to learn more about these careers and choose the right one for them. There is demand for workers in the transportation and manufacturing industries. Between 2016 and 2026, automotive service technicians and mechanic jobs are expected to grow by 6 percent; diesel service and technician mechanic positions by 9 percent, and welders by 6 percent. Good pay is available in these positions. Ongoing technological changes and the element of active work make careers in transportation and manufacturing personally rewarding and challenging.

Students are encouraged to register now for the Transportation and Manufacturing Camp as space is limited. Sign up today at wdt.edu/camps. For more information, call Wanda Roe, Admissions and Event Specialist, at (605) 718-2963 or email her at Wanda.Roe@wdt.edu.

Western Dakota Tech is located at 800 Mickelson Dr.

-----------------------------------------------------------------------------

About Western Dakota Tech

Western Dakota Tech was established in 1968 and is the only technical college that serves the western South Dakota region.

Western Dakota Tech offers programs in a variety of fields, including Business and Computers, Construction and Manufacturing, Energy and Environmental Technologies, Health Sciences, Legal and Public Services, and Transportation Technologies.

More than 96 percent of Western Dakota Tech's most recent graduates are working, continuing their education, or are enlisted in the military.

Western Dakota Tech faculty, staff, and administration focus their efforts on helping students gain the skills and experiences they need to succeed. Through hands-on learning, internships, and industry partnerships, Western Dakota Tech students graduate ready to make a real and immediate contribution to their employers and to their communities.

For information about Western Dakota Tech, call (800) 544-8765 or (605) 718-2565 or send an email to admissions@wdt.edu. Visit us on the web at www.wdt.edu.