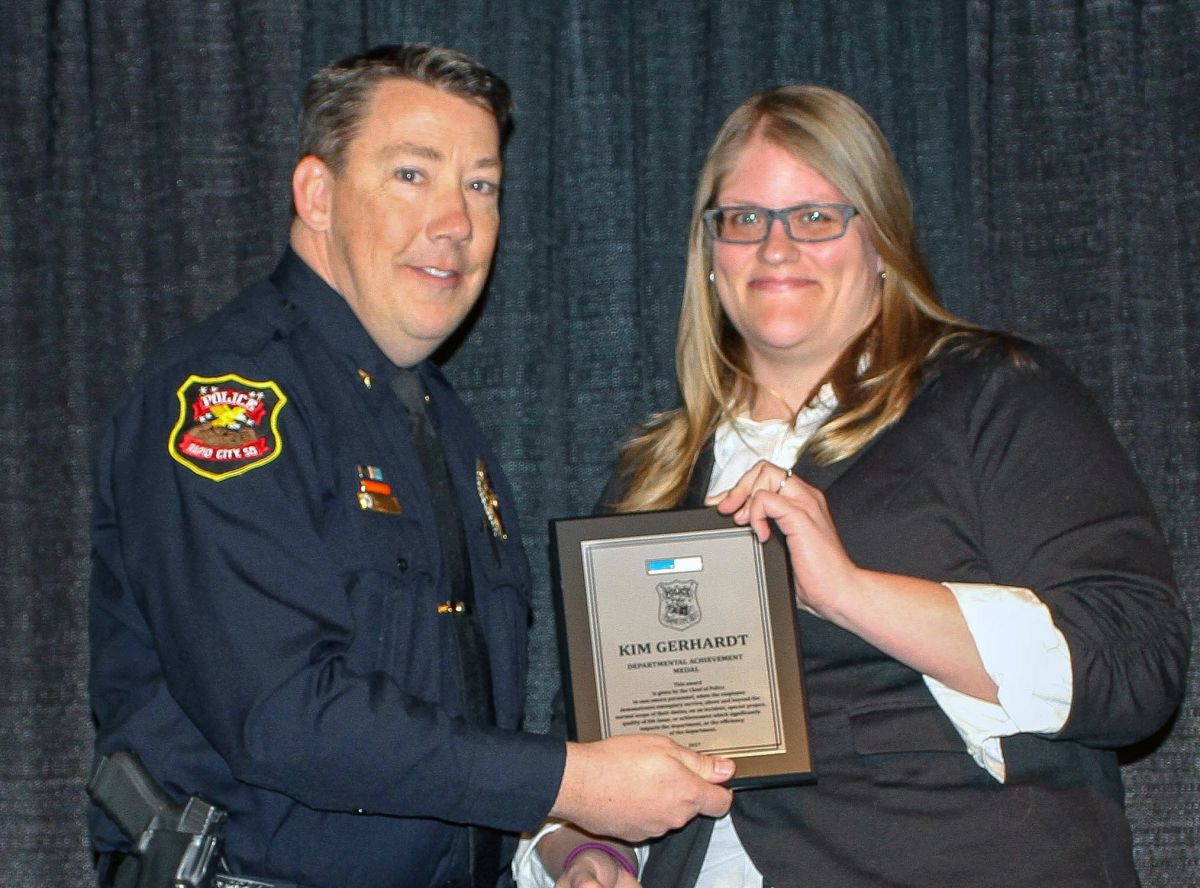 Kim Gerhardt, Western Dakota Tech Criminal Justice Adjunct Instructor and Rapid City Police Department Forensic Examiner, recently received the Department Achievement Medal from the Rapid City Police Department.

Kim received the award for exceptional quality management of crime scene evidence.

PHOTO CUTLINE:
Rapid City Chief of Police Karl Jegeris, left, presents Kim Gerhardt, Western Dakota Tech Adjunct Instructor, with the Department Achievement Medal.
"This is an awesome achievement and reflective of the professionalism in Kim's day-to-day work as a forensic examiner working on crime scene investigations in Rapid City and Pennington County," said Pete Ragnone, Western Dakota Tech Criminal Justice Program Director. "Kim is one of only three certified crime scene analysts in the State of South Dakota and the very best I have seen in my 25 year law enforcement career. She instructs two classes in the Criminal Justice program and we are lucky to have her."

Congratulations, Kim!

-------------------------------------------------------------------------------------------------------------------
About Western Dakota Tech

Western Dakota Tech was established in 1968 and is the only technical college that serves the western South Dakota region.

Western Dakota Tech offers programs in a variety of fields, including Business and Computers, Construction and Manufacturing, Energy and Environmental Technologies, Health Sciences, Legal and Public Services, and Transportation Technologies.

More than 96 percent of Western Dakota Tech's most recent graduates are working, continuing their education, or are enlisted in the military.

Western Dakota Tech faculty, staff, and administration focus their efforts on helping students gain the skills and experiences they need to succeed. Through hands-on learning, internships, and industry partnerships, Western Dakota Tech students graduate ready to make a real and immediate contribution to their employers and to their communities.

For information about Western Dakota Tech, call (800) 544-8765 or (605) 718-2565 or send an email to admissions@wdt.edu. Visit us on the web at www.wdt.edu.