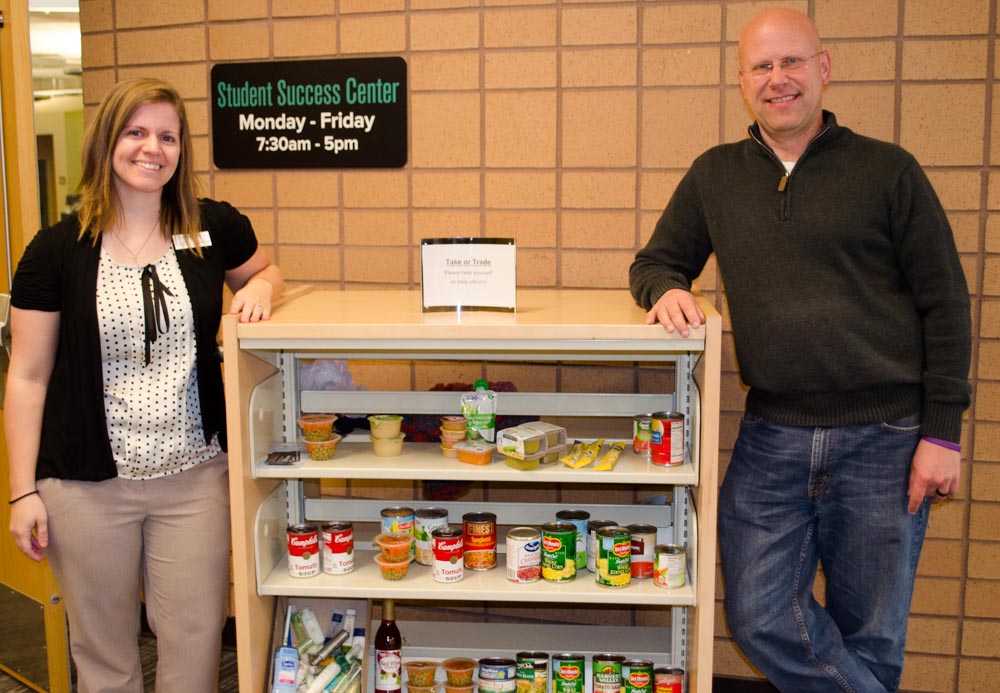 At Western Dakota Tech the success and well-being of our students is our top priority. As we know students sometimes lack resources and access to nutritionally adequate food to maintain healthy, active lifestyles, we have attempted to help fill the gaps with a free, mobile food pantry. The effort to reduce the food insecurity of our students received a huge boost on Monday, April 3, through a new partnership with First Baptist Church in Rapid City. Through the church and its sponsorship, Western Dakota Tech can now purchase food in bulk, at a reduced cost, for students in need through Feeding South Dakota.

In addition to the mobile food cart in front of the Library/Student Success Center, there is now a food pantry in the back of the Library that Student Success Center staff can access to put together grocery bags of non-perishable food for students. Fawn Hall, Student Success Coach, photo left, filled the new storage space for the first time Monday with items including canned chicken, pasta and pasta sauce, canned pears, protein bars, cereal, and cheese and crackers.

"We know there are students, and their families, who sometimes go hungry. This is a dire need that often goes unrecognized. The expansion of our food pantry means we will be able to assist additional students and be able to meet their needs more adequately," Hall said. "There is no amount of thank-you's that can begin to express the appreciation and gratitude we have for how First Baptist Church is helping our students. They are positively impacting student lives in a way we cannot do alone here."

First Baptist Church Pastor Gregg Hemmen, photo right, was present for the food delivery and pantry set-up. He said when his church became aware of the student's need of food from church member Debbie Toms, Student Success Center Director, they thought they could help by purchasing the food through Feeding South Dakota.

"We are happy to be able help students and their families," Pastor Hemmen said. "We believe this will be an effective way to get food in the hands of those who need it."

In order to obtain and distribute food through Western Dakota Tech's Pantry, Hall has completed food banking training and became Food Handler certified.

As the amount of food that can be purchased through Feeding South Dakota is limited, the Student Success Center asks everyone to continue donating non-perishable food items on Fridays (or whenever possible). Hall said it is best for Faculty and Staff to donate food, as opposed to making monetary donations, at this time.

Faculty and Staff aware of students in need of food assistance should email Fawn Hall or call her at (605) 718-2961.

Working together, we will continue our efforts to eradicate hunger. Thank you for your continued food donations that are making a difference in the lives of our students and their families.