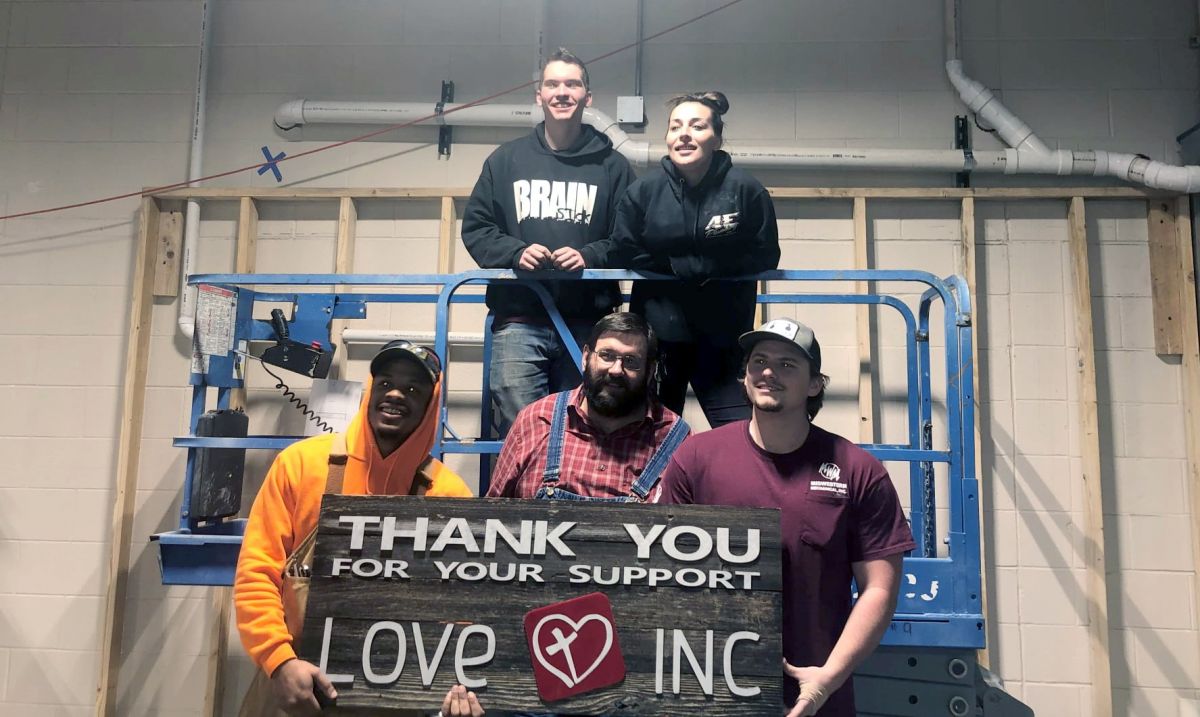 Western Dakota Tech Plumbing Technology program students, under the guidance of Program Director Walter Cline, are contributing their skills and labor on the Love INC of the Black Hills new building construction project. The new Love INC building is located at 414 E. Omaha St.

Cline's students have been working on the drain waste and vent system on a couple of bathrooms. Some of the work has been challenging, as they have had to work on lifts 15 ft. above ground to attach hangers for vents to steel bar joists.
"We have covered the processes and techniques utilized for this project in our campus lab, but this has provided a chance for the students to get additional, real work site experience," Cline said. "It is a rewarding project for the students as they get to work on this as volunteers and they can take quite a bit of pride in that."

The students have been working on the project a couple of days a week as part of their hands-on learning lab since October. The project will continue into Spring Semester 2020.

Cline thanks Streamline Plumbing, of Rapid City, for allowing his students the opportunity to work on this project.

Learn more about Western Dakota Tech's Plumbing Technology program at wdt.edu/degree-programs/plumbing-technology. More information is also available by calling Western Dakota Tech Admissions at (800) 544-8765, (605) 718-2565 or emailing Admissions@wdt.edu.

About Western Dakota Tech
Western Dakota Tech was established in 1968 and is the only technical college serving the western South Dakota region.

Western Dakota Tech offers programs in a variety of fields, including Business and Computers, Construction and Manufacturing, Energy and Environmental Technologies, Health Sciences, Legal and Public Services, and Transportation Technologies.

More than 98 percent of Western Dakota Tech's most recent graduates are working, continuing their education, or are enlisted in the military. [Placement information is derived from graduate surveys, faculty-collected data, placement surveys started six months after graduation, and the South Dakota Department of Labor and Regulation. Overall placement rate is figured by: (responding graduates employed, continuing education, or in military service)/(responding graduates who are seeking employment). The number of program graduates are unduplicated by CIP code.]

Western Dakota Tech faculty, staff, and administration focus their efforts on helping students gain the skills and experiences they need to succeed. Through hands-on learning, internships, and industry partnerships, Western Dakota Tech students graduate ready to make a real and immediate contribution to their employers and to their communities.

For information about Western Dakota Tech, call (800) 544-8765 or (605) 718-2565 or send an email to Admissions@wdt.edu. Visit us on the web at wdt.edu.