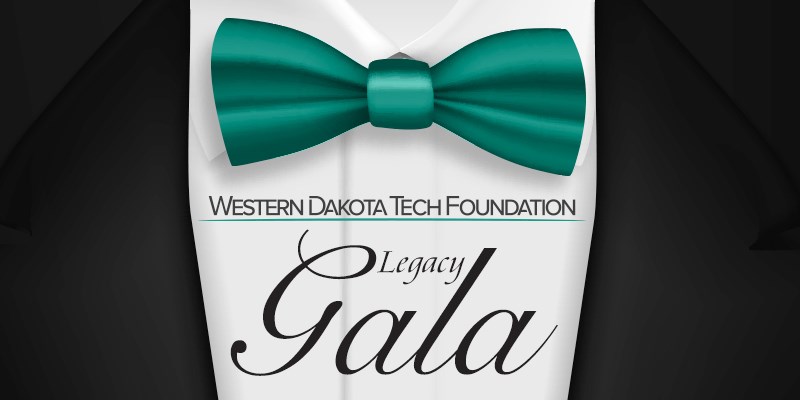 There is a great upcoming opportunity to find out more about the Western Dakota Tech (WDT) Foundation, support the importance of technical education, and learn how you can partner with the Foundation to help make a difference for our students and our community. Plan now to attend the WDT Foundation Legacy Gala on Thursday, Oct. 25.
The gala will take place from 5 p.m. to 8:30 p.m. in WDT's Event Center. Tickets are available now. Single tickets are $75 and can be purchased at https://www.wdt.edu/foundation-alumni/foundation-rsvp. Cost for a table of six is only $350; these tickets can be purchased by calling Danita Simons, WDT Foundation Director, at (605) 718-2436. All proceeds will benefit the Foundation and Western Dakota Tech students.
The gala keynote speaker is Dana J. Dykhouse, Chief Executive Officer of First PREMIER Bank, a position he has held since 1995. He is also President of the South Dakota Board of Technical Education. Dykhouse has served on many civic and community boards. He is the chair of the Build Dakota Scholarship board and is a past chair of the Sioux Falls Chamber of Commerce and Forward Sioux Falls. Dykhouse also serves on the South Dakota Science and Technology Authority, the South Dakota State University Foundation board, and the Sioux Falls Sports Authority.
Event sponsors are West River Electric Association, Inc., and the South Dakota Community Foundation.
For more information, call Danita Simons, WDT Foundation Director, at (605) 718-2436 or email her at danita.simons@wdt.edu.
------------------------------------------------------------------------------------------------------

About Western Dakota Tech
Western Dakota Tech was established in 1968 and is the only technical college that serves the western South Dakota region.

Western Dakota Tech offers programs in a variety of fields, including Business and Computers, Construction and Manufacturing, Energy and Environmental Technologies, Health Sciences, Legal and Public Services, and Transportation Technologies.

More than 96 percent of Western Dakota Tech's most recent graduates are working, continuing their education, or are enlisted in the military.

Western Dakota Tech faculty, staff, and administration focus their efforts on helping students gain the skills and experiences they need to succeed. Through hands-on learning, internships, and industry partnerships, Western Dakota Tech students graduate ready to make a real and immediate contribution to their employers and to their communities.

For information about Western Dakota Tech, call (800) 544-8765 or (605) 718-2565 or send an email to admissions@wdt.edu. Visit us on the web at www.wdt.edu.