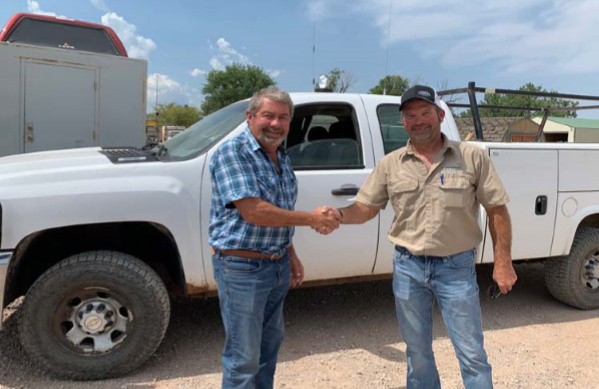 PHOTO CUTLINE: Bob Quinn, former owner of Quinn Construction, Inc., and current owner of American West Corp., left, is shown with Bret Clark, WDT Construction Technology Program Director/Instructor, right, and the pickup he donated to the WDT Construction Technology program.
In fall 2019, Bret Clark, Western Dakota Tech (WDT) Construction Technology Program Director/Instructor, reached out to the Construction Industry Center (CIC) seeking a donation of a good used pickup to use in his Construction Technology program for the purpose of hauling materials and equipment to job sites where students apply their practical learning. CIC in turn reached out to the industry.
Enter Bob Quinn, former owner of Quinn Construction, Inc., and current owner of American West Corp., who called CIC a few weeks later, saying, "I may have a vehicle that will work for them."

Unfortunately, Bob's donation was delayed when COVID struck disrupting the college schedule. Recently, just in time for the Fall 2020 Semester, Bob presented a 2008 Chevrolet 2500, complete with/utility box, to Bret and the WDT program.

Bret, Construction Technology students, and all of WDT thank Bob for the donation and the CCI for helping us fulfill our vehicle need.
--------------------------------------------------------------------------------

About Western Dakota Tech

Western Dakota Tech was established in 1968 and is the only technical college serving the western South Dakota region.

Western Dakota Tech offers programs in a variety of fields, including Business and Computers, Construction and Manufacturing, Energy and Environmental Technologies, Health Sciences, Legal and Public Services, and Transportation Technologies.

Ninety-nine percent of Western Dakota Tech's most recent graduates are working, continuing their education, or are enlisted in the military. [Placement information is derived from graduate surveys, faculty-collected data, placement surveys started six months after graduation, and the South Dakota Department of Labor and Regulation. Overall placement rate is figured by: (responding graduates employed, continuing education, or in military service)/(responding graduates who are seeking employment). The number of program graduates are unduplicated by CIP code.]

Western Dakota Tech faculty, staff, and administration focus their efforts on helping students gain the skills and experiences they need to succeed. Through hands-on learning, internships, and industry partnerships, Western Dakota Tech students graduate ready to make a real and immediate contribution to their employers and to their communities.

For information about Western Dakota Tech, call (800) 544-8765 or (605) 718-2565 or send an email to Admissions@wdt.edu. Visit us on the web at wdt.edu.