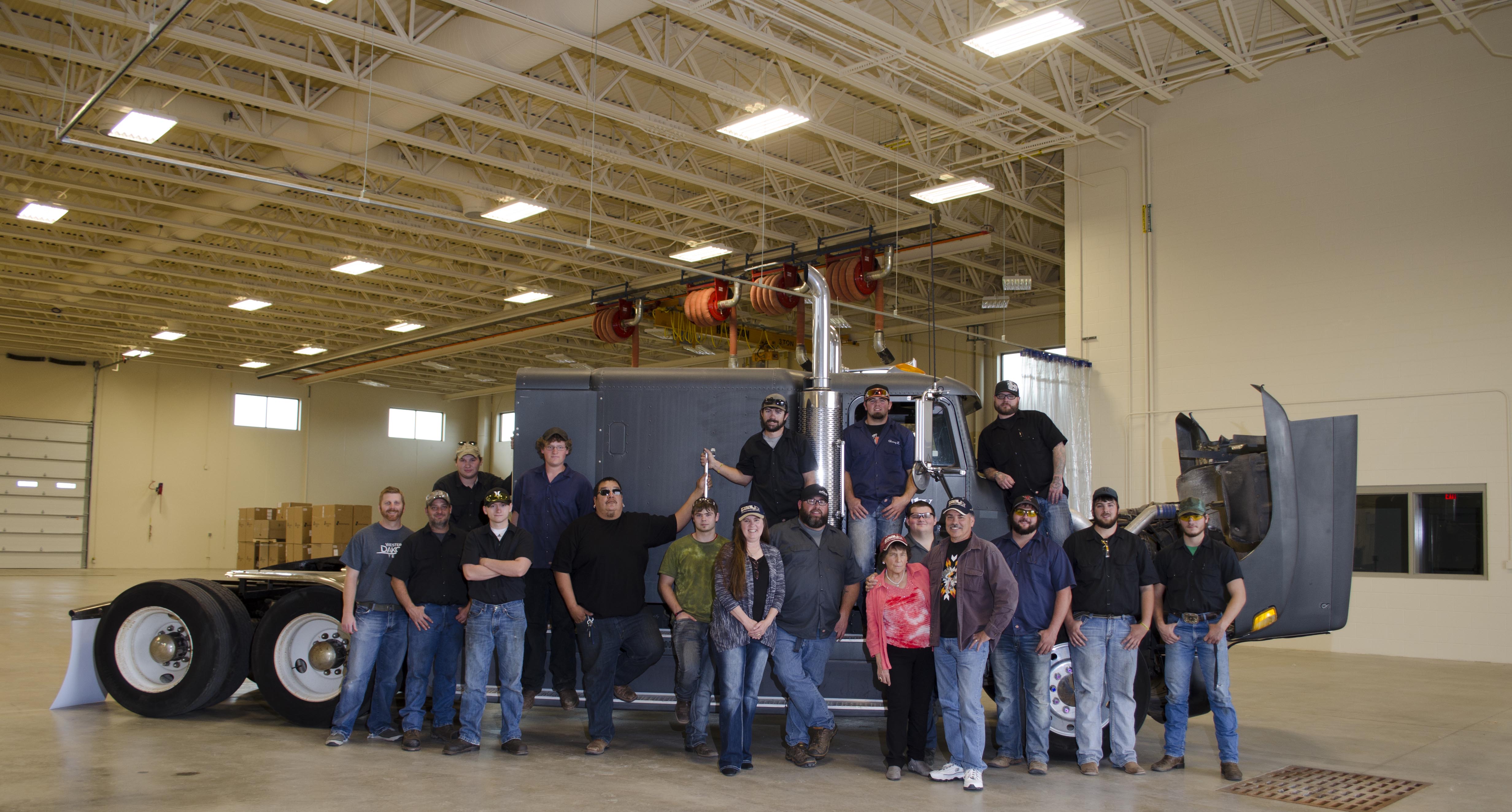 Laughter breaks free among the group of excited voices flipping through family photo albums. Students intently listen with wonder as they hear the history of Larry J. Croft and "Mouse", his pristinely-kept 1996 Freightliner semi-truck.
This was the scene in the new Transportation Technology Lab at Western Dakota Tech as students met the family who donated the entire Freightliner semi-truck to the college last month.
Diane Croft and family made the donation in honor of Diane's husband, Larry, who passed away in 2015.

Larry encountered a wide variety of freight throughout his career but primarily hauled flatbed trailers with equipment and materials. He purchased "Mouse" brand new in 1996 and kept it in excellent condition. The Freightliner holds an estimated value of $20,000.
Western Dakota Tech Transportation Technology – Heavy Duty Program Director Dick Towne says students typically work on lower horsepower fleet trucks, which have shared many drivers. Croft's Freightliner has a high horsepower engine that is commonly found in owner operated trucks.
Towne says while fleet trucks are an important part of the Transportation Technology program, it's also important for the students to be familiar with big horsepower trucks like Croft's.
"This is an engine students will certainly encounter in the field," Towne said. "Experience and familiarity with this engine will impress employers and give our students an advantage."
Towne says Croft's Freightliner will be used to replicate problems commonly found in Caterpillar and independent repair shops. The students will maintain the truck and have it running and available at all times for use in the Professional Truck Driving Program offered through the Corporate Education Center.
The Croft family has ties to Western Dakota Tech. Larry's daughter, Debbie Croft Geibel, graduated from the Western Dakota Tech Practical Nursing program in 1984. The family thought of the college while settling Larry's affairs.
Western Dakota Tech Foundation Development Director Aaron Jacobs says the college and students are grateful for the donation.
"This donation means so much to the school and the students," Jacobs said. "The students are so excited and it shows that our community supports the role Western Dakota Tech plays in the workforce."


Left to right: Dick Towne, Aaron Jacobs, Diane Croft (wife of Larry), Debbie Croft Geibel (daughter), Nick Geibel (son-in-law). Not pictured: Laurie Croft Gaudette (daughter) and Rick Gaudette (son-in-law).