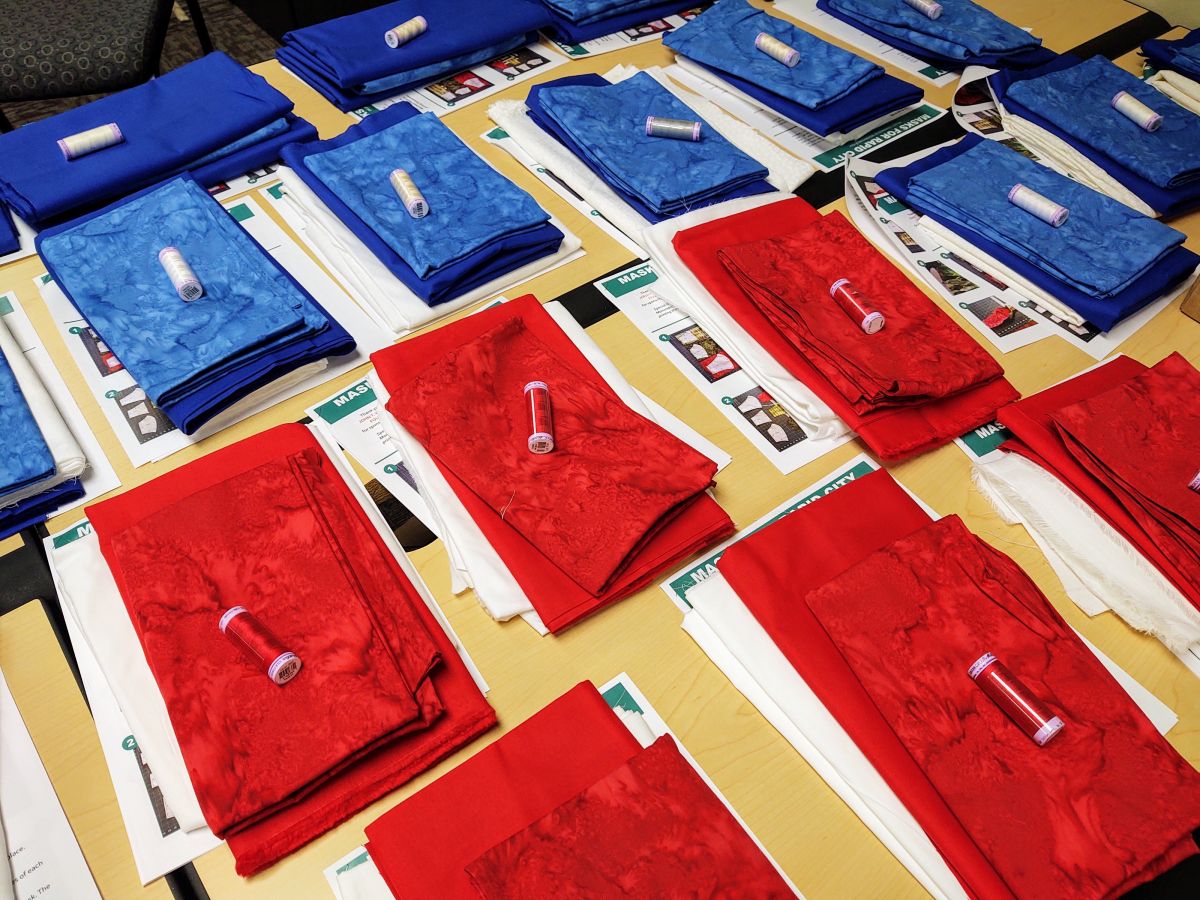 WDT Coordination Effort Results in 50,000 Masks Already Produced

When the few remaining face mask-making kits Western Dakota Tech (WDT) has left are sewn and the masks are distributed, the college's coordinated portion of the Masks for Rapid City project will have resulted in 50,000 masks for our community! The Masks for Rapid City project will now focus on masks for area students which will now be led by Rapid City Area Schools. "This has been a fantastic effort by our community to benefit the people of Rapid City. We cannot thank everyone enough for all they have done," said Stephanie Mayfield, one of the Mask Project Coordinators and Director of the West River Area Health Education Center. "When we started this project at Western Dakota Tech in April 2020, there was a large community need for face masks to help in the effort to reduce the spread of COVID-19. At that time local area medical providers needed masks, as did immunocompromised members of the community, and you couldn't purchase masks the way we can now – seven months later. The generosity of area foundations and businesses, and the hard work by hundreds of volunteers, has resulted in washable/reusable masks people are still receiving and wearing today."

Once Masks for Rapid City filled the requested health care and immunocompromised individual mask requests, masks were made and donated to thousands of individuals, and many organizations and businesses. Some to receive masks have included: Monument Health, Community Health Center of the Black Hills, Rapid City Medical Center, Tribal Chairmen's Health Board, Rapid City Area Schools, Pennington County Jail, Pennington County Search and Rescue, Children's Home Society, Addiction Recovery Center, Aventara Nursing Homes, St. Elizabeth Seton, WAVI, etc.

As there is less of a need for adult masks and can be purchased more readily locally now, and Rapid City Area Schools (RCAS) needs more face masks for students, the school district will now head the Masks for Rapid City project from mask-making kits to distribution of completed masks. For more information, call Shirley Fletcher, RCAS Executive Assistant, at (605) 394-4031.

As Masks for Rapid City, WDT coordinated the purchasing and prewashing of the mask fabric; mask-making kit assembly; and completed masks drop-off, mask post washing, and distribution. Each kit included three yards of fabric (most batik), one spool of thread, 20 knit ties, and two instruction packets with patterns. Adult mask kits produced 20 individual face masks and the children's kits produced 36 individual face masks.

Masks for Rapid City has received more than $90,000 in grants from local foundations: Vucurevich Foundation, United Way of the Black Hills, Monument Health Foundation, South Dakota Community Foundation, and the Black Hills Area Community Foundation to purchase Batik fabric (best for making masks), thread, knit fabric for mask ties, and other items necessary to create kits to make the needed face masks.

Many great local businesses have assisted the Masks for Rapid City effort. Betty's Quiltery, The Sewing Center, and The Quilt Connection have provided Batik cloth and thread at a discount for this purpose. Laundry World, French Dry Cleaners, and Heritage Cleaners are washing the new material prior to the masks being made, and rewashing them prior to distribution, for free. The Monument Health Print Shop and RCAS Print Shop donated the paper and printing cost for the mask-making instruction and pattern packets that are included in each mask-making kit.

The last of Western Dakota Tech's mask-making kits, and masks, are available now at the college's front entrance. First-come, first-serve.

----------------------------------------

About Western Dakota Tech

Western Dakota Tech was established in 1968 and is the only technical college serving the western South Dakota region.

Western Dakota Tech offers programs in a variety of fields, including Business and Computers, Construction and Manufacturing, Energy and Environmental Technologies, Health Sciences, Legal and Public Services, and Transportation Technologies.

Ninety-nine percent of Western Dakota Tech's most recent graduates are working, continuing their education, or are enlisted in the military. [Placement information is derived from graduate surveys, faculty-collected data, placement surveys started six months after graduation, and the South Dakota Department of Labor and Regulation. Overall placement rate is figured by: (responding graduates employed, continuing education, or in military service)/(responding graduates who are seeking employment). The number of program graduates are unduplicated by CIP code.]

Western Dakota Tech faculty, staff, and administration focus their efforts on helping students gain the skills and experiences they need to succeed. Through hands-on learning, internships, and industry partnerships, Western Dakota Tech students graduate ready to make a real and immediate contribution to their employers and to their communities.

For information about Western Dakota Tech, call (800) 544-8765 or (605) 718-2565 or send an email to Admissions@wdt.edu. Visit us on the web at wdt.edu.