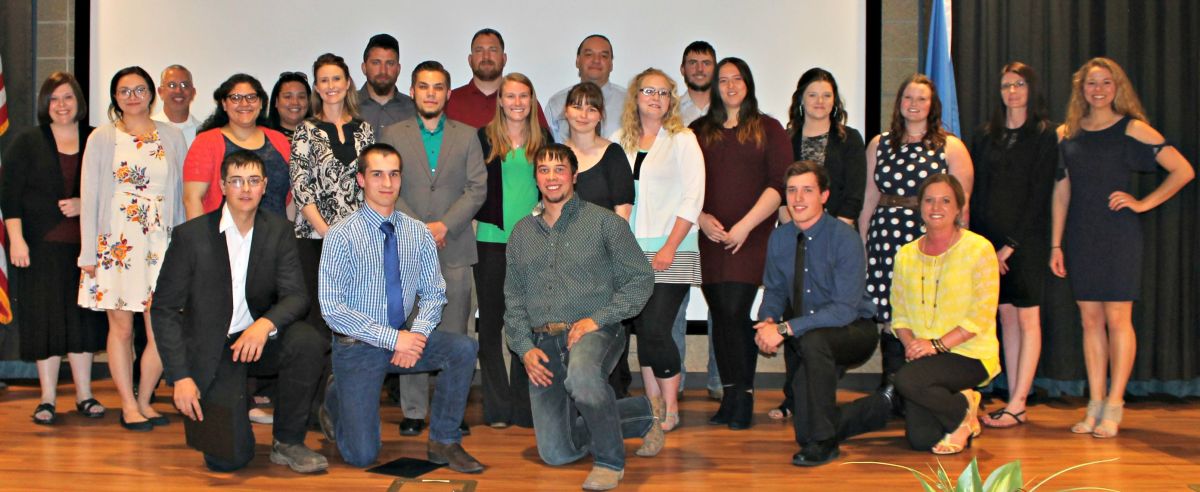 Western Dakota Tech Outstanding Graduates and a South Dakota SkillsUSA winner were honored during a Student Awards Banquet, in the college's Event Center, Friday, May 4. The awards banquet recognizes exceptional students in a variety of capacities.
Twenty-seven students received the Outstanding Graduate Award for their program. Students are chosen for this award by instructors in their program area based on criteria including academic achievement and organizational, communication and leadership skills.
Program award winners and their home towns, states are as follows:
Jessica Harwood, Accounting, Spearfish, S.D.
Erika Bement, Business Management and Marketing, Rapid City, S.D.
Dominique Lawrence, Computer-Aided Drafting Technician, Rapid City.
Kari Green, Criminal Justice, Rapid City.
Paul Van Doren, Computer Science, Rapid City.
Gretchen Jackson, Dental Assisting, Rapid City.
Elizabeth Slaton, Dental Assisting, Hendersonville, N.C.
Tanner Blank, Electrical Trades, Rapid City.
Sharla Maginnis, Environmental Engineering Technician, Crawford, Neb.
Chance Lockett, Fire Science, Rapid City.
Wambli Black Lance, Health Information Management, Rapid City.
Dennis Rice, HVAC/Refrigeration Technology, Rapid City.
Melanie Oakley, Law Enforcement Technology, Newcastle, Wyo.
Sarah Ludes, Library Technician, Rapid City.
Billie Sandidge, Medical Laboratory Technician, Lead, S.D.
Richard Butturini, Paramedic, Rapid City.
Jinger Evans, Pharmacy Technician, Hot Springs, S.D.
Jennifer Thomas, Phlebotomy/Laboratory Assistant, Spearfish.
Abbey Helmer, Practical Nursing, Rapid City.
Amber Balk, Practical Nursing, Rapid City.
Wrangler Weishaar, Precision Machining, Bison, S.D.
Brandi Enright, Surgical Technology, Union Center, S.D.
Nick Jensen, Transportation Technology-Heavy Duty, Rapid City.
Joshua Osterkamp, Transportation Technology-Light Duty, Box Elder, S.D.
Sage Alexander, Welding/Fabrication, Martin, S.D.
Jeffrey Deal, Welding/Fabrication, Sidney, Neb.
David Kary, Welding/Fabrication, Norris, S.D.
Four additional awards were also presented during the event.
Outstanding Electrical Trades graduate Tanner Blank received the

Klein Tools Award.
The

ATEA Nomination Award

was presented to Outstanding Business Management and Marketing graduate Erika Bement.
Exemplary Law Enforcement Technology student

Eric Richardson,

of Newell, S.D.,

received the

Jason Burggraff Award. Burggraff was a member of the Law Enforcement Class of 1997 who died in a motorcycle accident on April 1, 1996. The Jason Burggraff award was developed in memory of Jason. The recipient is chosen by second year Law Enforcement students each year and is someone who students believe is a class leader and will do well in the Law Enforcement career field.
Jerhett Cattin, first-year Welding and Fabrication student, who recently placed first in Welding at the South Dakota SkillsUSA contest, received the

SkillsUSA National Qualifier Award. Cattin, of Chadron, Neb., will compete in the upcoming national SkillsUSA Championships in Louisville, Ky., in June.
------------------------------------------------------------------------------------------
About Western Dakota Tech

Western Dakota Tech was established in 1968 and is the only technical college that serves the western South Dakota region.

Western Dakota Tech offers programs in a variety of fields, including Business and Computers, Construction and Manufacturing, Energy and Environmental Technologies, Health Sciences, Legal and Public Services, and Transportation Technologies.

More than 96 percent of Western Dakota Tech's most recent graduates are working, continuing their education, or are enlisted in the military.

Western Dakota Tech faculty, staff, and administration focus their efforts on helping students gain the skills and experiences they need to succeed. Through hands-on learning, internships, and industry partnerships, Western Dakota Tech students graduate ready to make a real and immediate contribution to their employers and to their communities.

For information about Western Dakota Tech, call (800) 544-8765 or (605) 718-2565 or send an email to admissions@wdt.edu. Visit us on the web at www.wdt.edu.