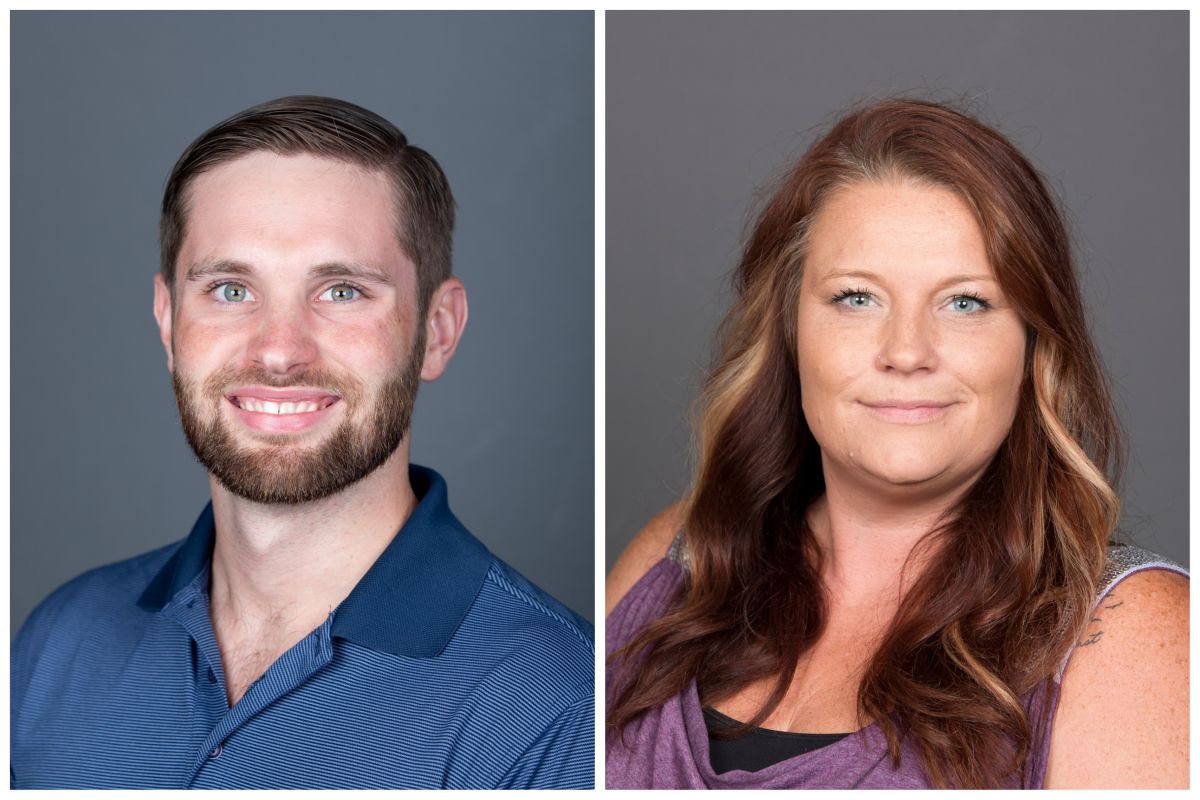 Western Dakota Tech (WDT) is excited to announce that its nominees for the American Technical Education Association (ATEA) Outstanding Technical Teacher of the Year Award are both finalists for the honor!

Ethan Burk, left, Automotive Technology Program Co-Director and Instructor, and Mandy Hertel, right, Social Science Program Director and Instructor, were nominated by their peers to represent WDT in the award category for the honor. Burk is ASE Auto Master Certified. He has an A.A.S. degree in Automotive Technology from Northeast Community College in Norfolk, Neb. Burk has been teaching at WDT for three years.

Hertel earned a Master's degree in Educational Psychology from Capella University headquartered in Minneapolis, Minn. She has a Bachelor's degree in Sociology with a Minor in Psychology from Black Hills State University. Hertel began teaching at WDT in 2012.

The 54th ATEA National Conference award winner will be announced during a virtual event on Tuesday, April 27.

WDT is proud to have had a Faculty member win the overall award in recent years. Surgical Technology Program Director and Instructor Jade Hollister won the ATEA Outstanding Teacher Award in 2019. Last year, Welding and Fabrication Instructor Troy Barry was a finalist for the award.

The ATEA is a premier association for the post-secondary technical educator, with emphasis on professional development. The Association was founded in 1928.
------------------------------
About Western Dakota Tech

Western Dakota Tech was established in 1968 and is the only technical college serving the western South Dakota region.

Western Dakota Tech offers programs in a variety of fields, including Business and Computers, Construction and Manufacturing, Energy and Environmental Technologies, Health Sciences, Legal and Public Services, and Transportation Technologies.

Ninety-nine percent of Western Dakota Tech's most recent graduates are working, continuing their education, or are enlisted in the military. [Placement information is derived from graduate surveys, faculty-collected data, placement surveys started six months after graduation, and the South Dakota Department of Labor and Regulation. Overall placement rate is figured by: (responding graduates employed, continuing education, or in military service)/(responding graduates who are seeking employment). The number of program graduates are unduplicated by CIP code.]

Western Dakota Tech faculty, staff, and administration focus their efforts on helping students gain the skills and experiences they need to succeed. Through hands-on learning, internships, and industry partnerships, Western Dakota Tech students graduate ready to make a real and immediate contribution to their employers and to their communities.

For information about Western Dakota Tech, call (800) 544-8765 or (605) 718-2565 or send an email to Admissions@wdt.edu. Visit us on the web at wdt.edu.