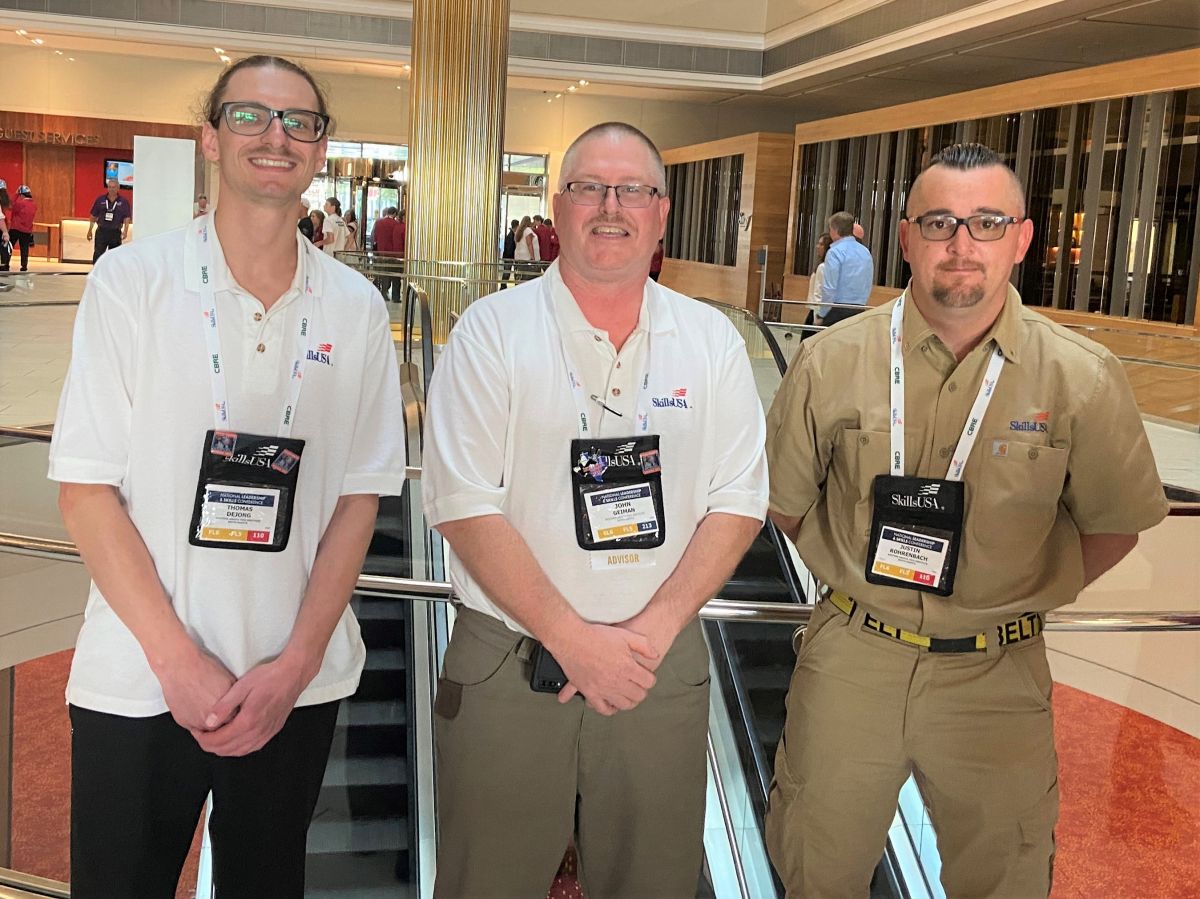 Western Dakota Technical College (WDTC) congratulates students Tom DeJong, left, and Justin Rohrenbach, right, who qualified for, participated in, and demonstrated their skills at a high level in the SkillsUSA National Leadership and Skills Contest, in Atlanta, Ga., June 20-24.

DeJong placed fourth out of 11 in the Information Technology Services division. Recent graduate Rohrenbach placed 14 out of 19 in the HVAC/Refrigeration competition. Computer Science Program Director John Geiman, center, accompanied the students as a WDTC Skills Advisor.

Geiman said the students should be proud of their efforts.

"I think both students did awesome and placed great for such a high-level national competition. For them to take the initiative to step up and compete is fantastic," Geiman said. "Both did well. I would put them up against anyone."

The South Dakota SkillsUSA delegation did well overall at nationals winning one gold medal and two silver medals. More information at: https://www.skillsusa.org/competitions/skillsusa-championships/results/.

About SkillsUSA
SkillsUSA is a partnership of students, teachers and industry working together to ensure America has a skilled workforce. We help each student excel. A nonprofit national education association, SkillsUSA serves middle-school, high-school and college/postsecondary students preparing for careers in trade, technical and skilled service occupations.

SkillsUSA serves more than 333,527 students and instructors annually. This includes 19,019 instructors who join as professional members. Including alumni, SkillsUSA membership totals over 394,000. SkillsUSA has served nearly 14 million annual members cumulatively since 1965 and is recognized by the U.S. Department of Education and the U.S. Department of Labor as a successful model of employer-driven workforce development.

About Western Dakota Technical College


Western Dakota Technical College (WDTC) was established in 1968 and is the only technical college serving the western South Dakota region.




WDTC offers nearly 40 programs in a variety of fields, including Business and Computers, Construction and Manufacturing, Energy and Environmental Technologies, Health Sciences, Legal and Public Services, and Transportation Technologies.




Ninety-nine percent of the college's most recent graduates are working, continuing their education, or are enlisted in the military.

[Placement information is derived from graduate surveys, faculty-collected data, placement surveys started six months after graduation, and the South Dakota Department of Labor and Regulation. Overall placement rate is figured by: (responding graduates employed, continuing education, or in military service)/(responding graduates who are seeking employment). The number of program graduates are unduplicated by CIP code.]




Western Dakota Technical College faculty, staff, and administration focus their efforts on helping students gain the skills and experiences they need to succeed. Through hands-on learning, internships, and industry partnerships, Western Dakota Tech students graduate ready to make a real and immediate contribution to their employers and to their communities.




For information about Western Dakota Technical College, call (800) 544-8765 or (605) 718-2565 or send an email to

Admissions@wdt.edu

. Visit us on the web at

wdt.edu

.