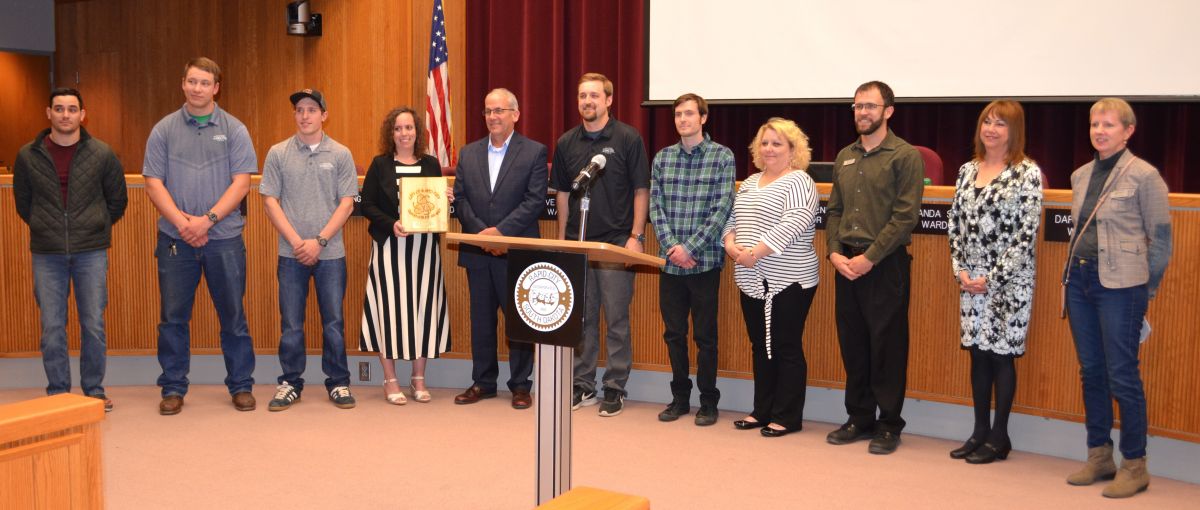 Western Dakota Tech's Project ATTUNED received the Rapid City Sustainability Award for April at the City Council meeting Monday, April 15.

Sherry Thurston of the Sustainability Committee presented the award to Kelsey Murray, Ph.D., Western Dakota Tech (WDT) Environmental Engineering Technology Program Director, and Brian Mitchell, WDT Electrical Trades Program Director. A couple of student graduates who worked on the college's original Aquaponics project and a current EET student were present for the special event. Project ATTUNED (Advanced Technical Training Utilizing Natural Environmental Design) focuses on integrating sustainability concepts into WDT's program curriculum. The centerpiece of the project is developing aquaponics systems with forward-thinking electrical control and environmental monitoring systems, which are designed to produce organic, healthy food while remaining carbon neutral.

In June 2018, WDT received national recognition by winning the National Science Foundation's Community College Innovation Challenge in Washington, D.C., with their project "Electrical Automation To Solve World Hunger'. Building upon the project, Tech officials are hosting 'Aqua 3.0', an aquaponics design competition for students in business, computer-aided design, environmental engineering and electrical trades programs. The winning design will be announced at the Earth Day Expo, April 22, at the Central States Fairgrounds Walter Taylor Building.

WDT is developing additional environmental projects with a goal of building a Sustainability Center on campus. One of WDT's student clubs, the Environmental Action Team, is starting honey bee hives on campus and planting a community garden.

Sustainability Awards are selected by the City's Standing Committee on Sustainability for projects contributing to the social, environmental and economic stability of Rapid City and are designed to recognize the outstanding efforts of individuals, organizations and businesses helping to make the community a more sustainable and livable place.

About Western Dakota Tech

Western Dakota Tech was established in 1968 and is the only technical college serving the western South Dakota region.

Western Dakota Tech offers programs in a variety of fields, including Business and Computers, Construction and Manufacturing, Energy and Environmental Technologies, Health Sciences, Legal and Public Services, and Transportation Technologies.

More than 96 percent of Western Dakota Tech's most recent graduates are working, continuing their education, or are enlisted in the military.

Western Dakota Tech faculty, staff, and administration focus their efforts on helping students gain the skills and experiences they need to succeed. Through hands-on learning, internships, and industry partnerships, Western Dakota Tech students graduate ready to make a real and immediate contribution to their employers and to their communities.

Western Dakota Tech is located at 800 Mickelson Dr.

For information about Western Dakota Tech, call (800) 544-8765 or (605) 718-2565 or send an email to admissions@wdt.edu. Visit us on the web at wdt.edu.