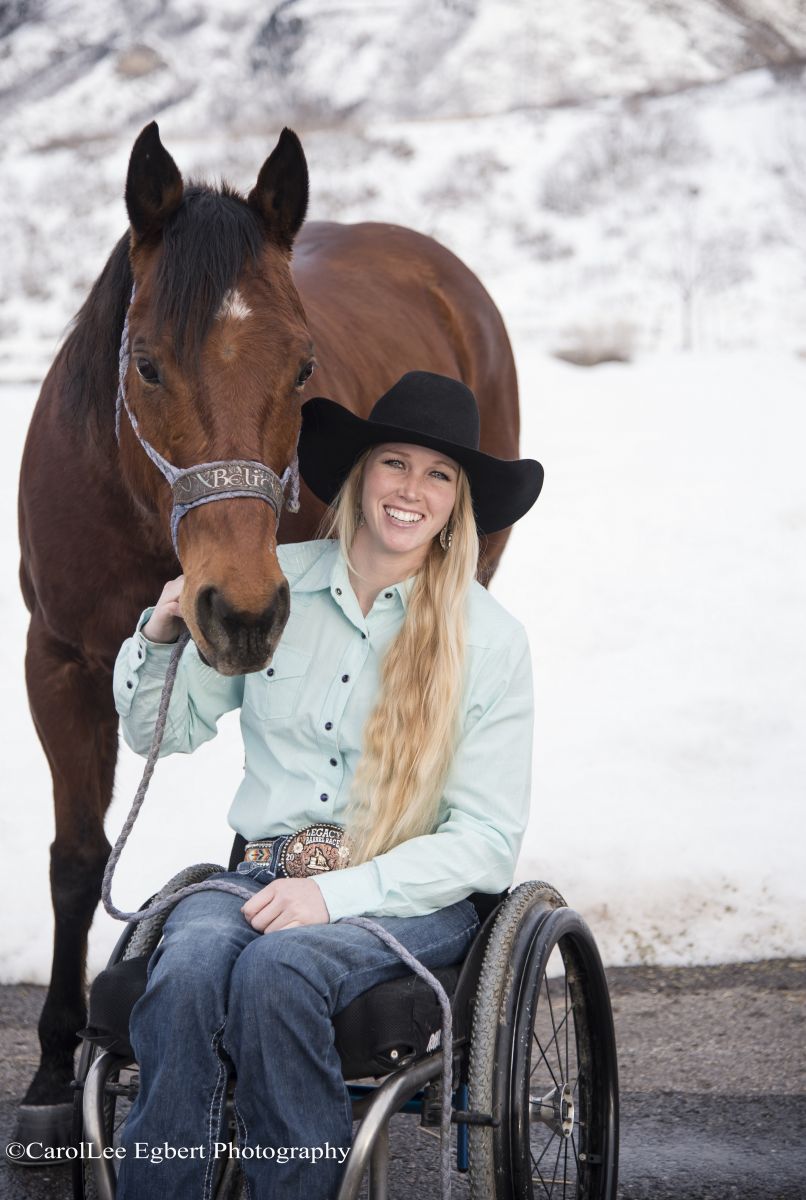 Amberley Snyder - Inspirational Barrel Racer, Subject of Netflix Movie, is Commencement Speaker

Western Dakota Technical (WDT) College is celebrating this year's 53rd Commencement with three ceremonies to allow for social distancing of graduates and attendees due to the pandemic. About 381 students will receive Certificates, Diplomas or Associate of Applied Science degrees - one of the largest graduating classes in WDT history.
The Commencement ceremonies will take place at The Monument (formerly known as the Rushmore Plaza Civic Center) as listed below. Attendance will be limited to those with tickets; graduates were provided tickets to share with family, friends.

Friday, May 14 - 3 p.m. - Practical Nursing & Registered Nursing with the Nurse Pinning Ceremony included.
Saturday, May 15 - 9 a.m. - Trades.
Saturday, May 15 - noon - Business, Criminal Justice, & Healthcare.
Amberley Snyder, of Elk Ridge, Utah, professional championship barrel racer, motivational speaker, and author, will provide the commencement address via a special video presentation. Snyder's inspirational story is depicted in the Netflix movie, "Walk. Ride. Rodeo".

The recipient of the Distinguished Service Award is Brian Blenner, retired, Rapid City Police Department Lieutenant. Lt. Blenner, now the Director of Safety and Security at Monument Health, was WDT's designated officer for many years.

The Distinguished Alumni Award will be presented to Lori (Carson) Moore, a Medical Transcription graduate (2002). Moore is the owner of Caramel Creations in the Rushmore Mall.

Two additional special commencement-related events will also take place at The Monument, in LaCroix Hall, this week:

Native American Honoring Ceremony - Friday, May 14, 6 p.m.
Law Enforcement Academy Graduation - Saturday, May 15, 10 a.m.
--------------------------------------------------------------------------------------
ABOUT WESTERN DAKOTA TECH

Western Dakota Tech was established in 1968 and is the only technical college serving the western South Dakota region.

Western Dakota Tech offers programs in a variety of fields, including Business and Computers, Construction and Manufacturing, Energy and Environmental Technologies, Health Sciences, Legal and Public Services, and Transportation Technologies.

Ninety-nine percent of Western Dakota Tech's most recent graduates are working, continuing their education, or are enlisted in the military. [Placement information is derived from graduate surveys, faculty-collected data, placement surveys started six months after graduation, and the South Dakota Department of Labor and Regulation. Overall placement rate is figured by: (responding graduates employed, continuing education, or in military service)/(responding graduates who are seeking employment). The number of program graduates are unduplicated by CIP code.]

Western Dakota Tech faculty, staff, and administration focus their efforts on helping students gain the skills and experiences they need to succeed. Through hands-on learning, internships, and industry partnerships, Western Dakota Tech students graduate ready to make a real and immediate contribution to their employers and to their communities.

For information about Western Dakota Tech, call (800) 544-8765 or (605) 718-2565 or send an email to Admissions@wdt.edu. Visit us on the web at wdt.edu.