Western Dakota Tech is proud to report April Slayton was elected to the South Dakota State Assembly of the Association of Surgical Technologists over the weekend.

Slayton is a 2016 graduate of the Western Dakota Tech Surgical Technology program and served as president of the Surgical Technology Club during the 2015-2016 school year.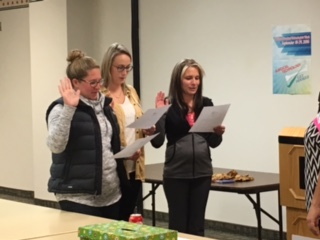 The Association of Surgical Technologists (AST) is a national organization with the primary purpose of ensuring surgical technologists have the knowledge and skills to administer patient care of the highest quality. All 50 states formed state assemblies to address member concerns and issues at the local level.

Over the weekend, the SD State Assembly held elections for Secretary and 3 of the 5 Board Director positions. Slayton was elected as a Board Director.

Instructor Tiffany Howe says Slayton is a great fit for the position.

"She was a great leader on campus and will continue to be a great leader at the state level now," Howe said. "It was one of those 'proud teacher moments' to watch her being sworn in."

There are 218 members in the SD State Assembly of AST and 52 student members. Howe says involvement with groups such as AST provide valuable experience and connections for students.


"Industry connections are so important for students," Howe said. "Of course the potential job connections are great, but students who can really immerse themselves in a career have more opportunity for success."

Howe encourages all of her students to get involved with AST and even took a group of students to the AST National Conference in San Diego in June.

The Western Dakota Tech Surgical Technology program is an 18-month Association of Applied Science program. It is accredited by the Commission on Accreditation of Allied Health Education Programs (CAAHEP). Surgical Technology is one of the fastest-growing professions in the country. To learn more,

click here

.