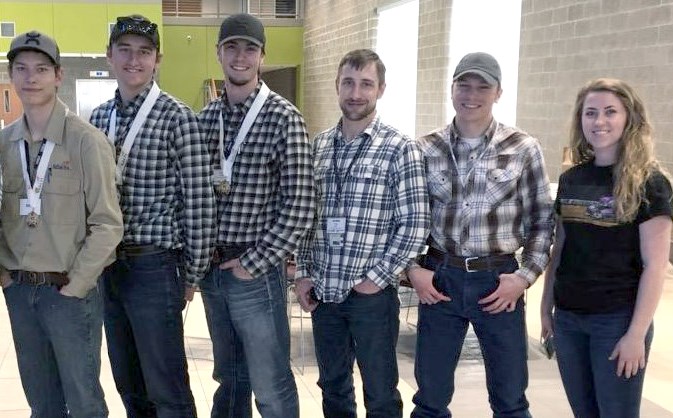 Western Dakota Tech (WDT) students learn the skills they need to be successful in their future careers. The quality education they receive at the college was in full display as they took home several awards at the recent 2019 SkillsUSA South Dakota competition in Sioux Falls.

WDT students from Automotive Technology, Diesel Technology, and Welding and Fabrication programs competed in the event at Southeast Tech on April 15.

Group photo cutline: Western Dakota Tech Welding and Fabrication students who placed at SkillsUSA S.D., with Advisor/Instructor Troy Barry, include, L-R: Jerhett Cattin, Wyatt Davidson, Michael Collins, Instructor T. Barry, Riley Pitman, and Faith Powers.
Photo cutline, above:
Adam Nilles, Transportation Technology - Light Duty student,
working on a laptop at SkillsUSA S.D.
Western Dakota Tech's post-secondary division student winners include:
Auto Service Technology Individual – Second place winner, Adam Nilles, second-year Transportation Technology – Light Duty student, of Rapid City.
Welding Individual – First place winner and returning State Champion Jerhett Cattin, second-year Welding and Fabrication student, of Chadron, Neb.; second place winner Wyatt Davidson, first-year Welding and Fabrication student, of Rapid City.
Welding Fabrication Team – First place team comprised of first-year Welding and Fabrication students Faith Powers, of Spearfish, S.D., and Michael Collins, of Chadron, Neb., and second-year student Riley Pitman, Broadus, Mont.
Western Dakota Tech congratulates the students on their hard work and award-winning efforts. The college is appreciative of its SkillsUSA Program Advisors for a job well-done. They include: Doyle Bouzek and Ethan Burk, Automotive Technology; Dan Ammon and Dave Lingle, Diesel Technology; and Troy Barry, Michael Prugh, and Charles Leeper, Welding and Fabrication. Ammon, Burk, and Barry accompanied 15 students who competed in the state competition.
Western Dakota Tech thanks the following businesses for sponsoring students in the state-wide event: Automotive Technology program: Denny Menholt Honda and McKie Ford, Diesel Technology program: Altec, Inland Truck, Eddies Truck Center, and Neilsen Dirtworks; Welding and Fabrication program: Adams-ISC.
The 55th Annual National Leadership and Skills Conference will take place in Louisville, Ky., June 24-28. Cattin will participate as a first-place winner for the second consecutive year! Welding and Fabrication are working to raise funds to send the Welding Fabrication Team members to also compete.
WDT will host the SkillsUSA South Dakota competition for three years starting in 2021!
SkillsUSA is a partnership of students, teachers and industry representatives working together to ensure America has a skilled workforce. SkillsUSA helps each student to excel. SkillsUSA is a national organization with state chapters serving teachers and high school and college students who are preparing for careers in technical, skilled and service occupations, including health occupations and for further education. Formerly known as VICA (the Vocational Industrial Clubs of America), SkillsUSA's mission is to empower its members to become world-class workers, leaders, and responsible American citizens.
----------------------------------------------
About Western Dakota Tech
Western Dakota Tech was established in 1968 and is the only technical college serving the western South Dakota region.
Western Dakota Tech offers programs in a variety of fields, including Business and Computers, Construction and Manufacturing, Energy and Environmental Technologies, Health Sciences, Legal and Public Services, and Transportation Technologies.
More than 96 percent of Western Dakota Tech's most recent graduates are working, continuing their education, or are enlisted in the military.
Western Dakota Tech faculty, staff, and administration focus their efforts on helping students gain the skills and experiences they need to succeed. Through hands-on learning, internships, and industry partnerships, Western Dakota Tech students graduate ready to make a real and immediate contribution to their employers and to their communities.
For information about Western Dakota Tech, call (800) 544-8765 or (605) 718-2565 or send an email to
admissions@wdt.edu
. Visit us on the web at
wdt.edu
.